How Do I Choose the Best plus Size Girls' Clothing?
Clothing manufacturers realize that people come in all shapes and sizes, regardless of age. From young to old and everything in between, finding clothes that both fit your frame and flatter your figure is a challenge in and of itself. This is particularly true of plus size clothing, which can vary significantly from its average-sized counterparts. Choosing plus size girls' clothing requires finding the correct fit and size as well as choosing age-appropriate pieces that boost your child's self-esteem.
Parents and others who shop for girls' clothes can read up on current fashions for a child's age group. Trends in junior's fashions are often different than those in women's fashions. Knowing what's currently "in" for junior's clothing can help you determine which plus size girls' clothing is stylish and which items to avoid. Choosing fashion-forward pieces encourages girls to embrace their appearance rather than feeling ashamed because they aren't wearing the same styles as their peers.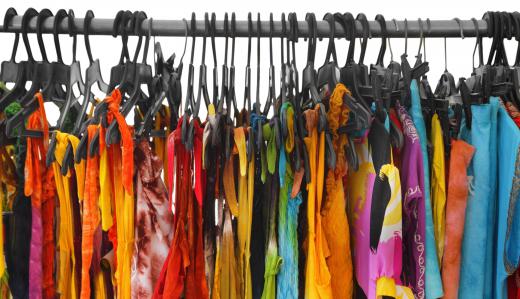 It will help if you take a moment to determine your child's shape. Some girls have long torsos, for example, while others have longer legs. Just because a piece is marketed as plus size girls' clothing doesn't mean it is appropriate for every plus size girl. Have your child try on a range of pieces to get a feel for what works — and doesn't work — for her individual body type.
Look for pieces that flatter her best assets when buying plus size clothing. Some clothing manufacturers simply scale up the non-plus sized items in their lines, which can lead to a less than flattering fit. This is of particular importance when shopping for plus size teenage clothing since teenage bodies are usually in a state of change. What may be flattering before a growth spurt may not be comfortable, appropriate or flattering afterward.
Shop with versatility in mind. Finding quality, fashion-forward plus size girls' clothing can be a chore that is fraught with tears. Choosing pieces that do double duty, such as a shirt that can be layered over or under other tops, means less of a search and more of a chance to experiment. A long-sleeve top layered under a tank top may look totally different than the long sleeve top on its own, for example, and allows your child to experiment with different looks for less money. Basic girls' clothing pieces can be enhanced with embellishments like rhinestones or iron-on photo transfers but also left as-is and accessorized with jewelry, bags, belts and shoes.
AS FEATURED ON:
AS FEATURED ON:






By: adisa

Plus size clothing is available in many stores and online.

By: Hugo Félix

Women who wear plus size clothing may find a greater selection online or through catalogs.

By: ratana_k

When it comes to buying plus size kids' clothes, it's best to choose quality over quantity.