How do I Choose the Best Living Room Furniture Set?
The living room furniture set that best fits a particular living room will be based on its intended use. Before purchasing a living room furniture set, it is important to decide how the furniture will be used, how often it will be used, and what kind of look the buyer wants for that room. The price of the living room furniture set may also be a factor that can determine what set works best for the space it will inhabit.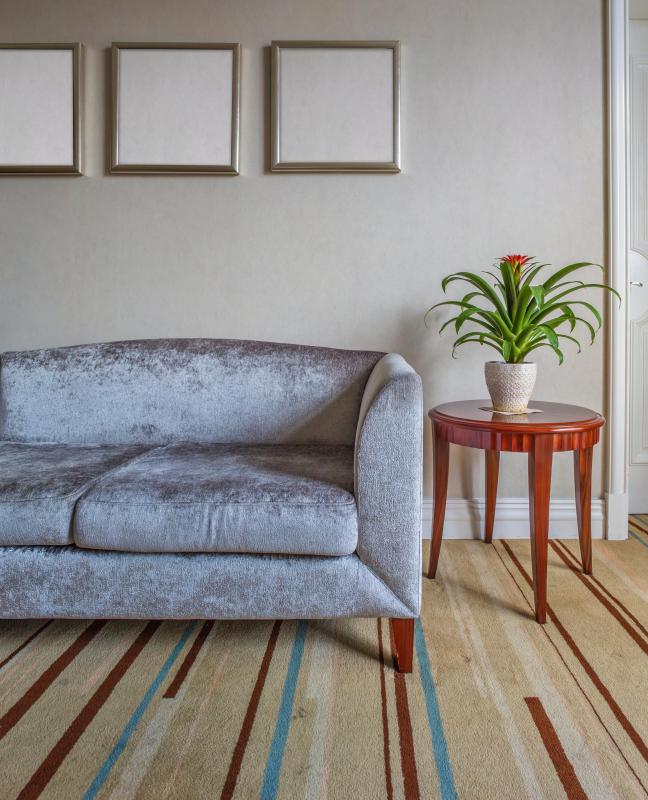 When it comes to choosing a living room furniture set, consider the level of durability that the furniture will have to withstand. A living room that is frequented by children will need furniture that can take some abuse, which means better materials and less cheap materials such as particle board. Such a living room furniture set should also be dark in color in case spills happen, which is a frequent occurrence with children. An alternative to dark furniture in this case would be to apply a protective film like Scotchguard to the furniture to prevent staining.
For a more formal living room, a living room furniture set that looks good and is comfortable for guests will fit the bill. Such living room sets are often dark colored — black and brown are common — and are made from finer materials such as leather. The sofa and chairs might be accented with fine woods that are stained a deep, dark color, and tables and chairs will often have ornate carvings on the solid wood parts. This living room set is classy and formal, but it comes with a price, as solid wood and leather can be quite expensive.
Other living room furniture sets are designed to fit a theme. A country living room set will come designed with bright colors like white or bright blue, and straight patterns such as plaid or crosshatch are common. Wood accents and sometimes even wicker are common accents to country style furniture. Retro furniture often comes in bright colors such as yellow or orange, and they feature curves and unusual shapes. Art deco furniture also utilizes curves and unusual angles and accents.
Some living rooms are meant simply for show — that is, people will not often be using the space. The space is often only used for very special occasions; if this is the case, white furniture can be used. It works well in this space because white dirties easily, so if the furniture is only used on rare occasions, the furniture is less likely to become dingy. Antiques and showpieces are also appropriate for such a room, as they run less of a risk of being damaged.