How do I Choose the Best Living Room Furniture?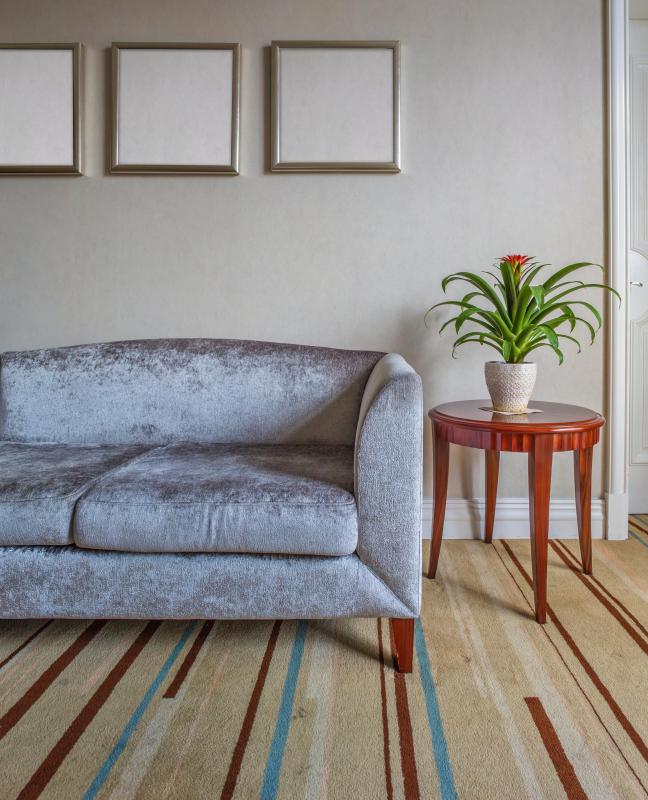 If you enjoy spending a lot of time in the living room with family and guests, creating a warm and welcoming atmosphere is probably important to you. Designing a living space that is conducive to relaxed conversation can encourage household members and friends to relax, enjoy each other's company, and exchange ideas. When choosing living room furniture, you may want to select comfortable couches and chairs so that people feel at ease. Aesthetic qualities that complement the theme of the room, along with the needs of your family and available space, should also be taken into consideration.
Contemplate the design of the overall area when choosing the colors for your living room furniture. Some people prefer a bright, bold palette with contemporary appointments, while others favor a black and white motif. Traditional, old-world elegance is also a popular choice for living room furniture.
Whether you prefer a stimulating visual setting, a monochromatic design, or opulent luxury, the room should have a unified theme for maximum appeal. Be cautious about choosing expensive trendy elements, however. Fads change quickly. You should select living room furniture that will last for several years, both in quality and design.
Accessories, such as throw pillows, rugs, and lamps, can provide splashes of color or whimsy. Wall art should complement the living room furniture. Selections can be made to enhance the theme of the room.
Many people choose to include a television in the living room so that the family can enjoy watching programs and movies together. Depending on the amount of space you have available, you may wish to purchase an entertainment center that stores movies, music, or other media while also displaying electronic devices, such as stereo equipment.
Be careful about choosing larger furniture items until you know they will fit within the designated space. It is often helpful to measure the area in advance of shopping. Also, consider load-in of your items and accessibility. In other words, unless you live on the first floor, inspect the size of the elevator to make sure your furniture will fit. Otherwise, check to see that stairs are wide enough to make delivery possible.
If you have children, you may want to consider choosing living room furniture that is durable and easy to clean. You should also be mindful about safety concerns and look for accessory tables with rounder corners as opposed to ones with sharp edges. When young children play in the house, glass pieces should also be avoided to help eliminate potential accidents and breakage.
Living room furniture can create a warm and welcoming atmosphere.

Throw pillows make nice living room accessories.

Decorated lampshades can add character to any living room.

Budget, aesthetics, and size are important things to consider when choosing new living room furniture.

People who want a living room that is contemporary may decorate it with sleek furnishings in soft, monochromatic shades.