How do I Make a Contemporary Living Room? (with pictures)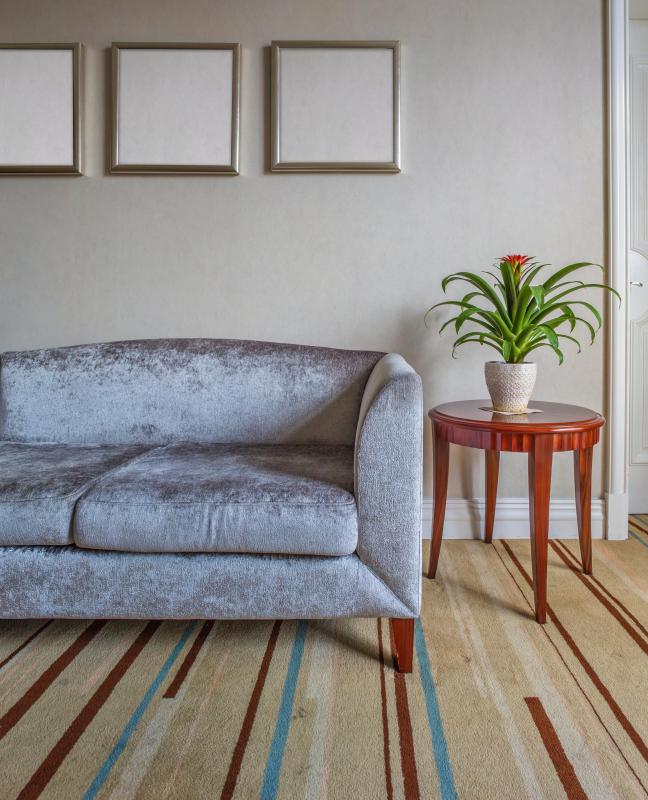 To make a contemporary living room, you'll need to focus on what is currently in style. To find the up-to-date looks you love best, look at furniture showrooms in your area or browse through interior decor sites online. Think about the seating, tables and storage options that you find the most attractive before imaging a group of pieces combined together in your space. Once you have your contemporary furnishings picked out, an area rug, curtains and fresh paint, if possible, can create the basic, updated living space. Trendy accessories such as pillows, artwork, bowls or vases can complete your contemporary living room.
If you already have some contemporary accessories you love, taking color and style cues from them to expand into the rest of the living room space may work well. In general, larger and fewer accent pieces are better in contemporary living rooms than groups of small objects unless the collection is large and dramatic. Looking at your favorite clothing styles may also help you decide on which state of the art, trendy colors and patterns to use in your living space. If you can paint your contemporary living room, use rich neutral colors on some walls and sophisticated, modern color hues on others. This technique can help create depth and interest.
If you're trying to create a contemporary living room on a budget, you may want to use classic furniture, but update it with covers and pillows in up-to-date fabrics. You could even paint old plain coffee and end tables in your favorite trendy accent colors for instant, low-cost style. Cheap living room furniture can often be dressed up with contemporary touches like graphic-patterned throw pillows. Being creative means you can make a contemporary living space without having to buy everything brand new.
If you're unsure of a color scheme, a black and white theme can be easy to do. Your seating pieces, picture frames, tables and curtains can be either black or white or patterns using both. When you have all the main pieces, then adding accents of your favorite current color can add personality as well as update the contemporary living room space.
If you'd prefer to create a softer, cooler contemporary space, a gray living room may be a good option. You can combine furnishings in different shades of gray from light to dark. Rich gray paint on walls can look especially stunning. Cream-colored accent pieces in up-to-date styles can help create a sophisticated contemporary living room.
Once the style of a living room has been chosen, a color palette should be selected.

Contemporary living rooms may feature throw pillows.

As flat screen televisions don't take up much space. they can be a simple addition to any living room.

Decorated lampshades bring character to contemporary living rooms.

Contemporary living rooms may have classic furniture pieces such as an entertainment center.

A shag rug can add a retro feel to a modern living room.

A contemporary living room is likely to feature white drapes.

People who want a living room that is contemporary may decorate the room with cutting-edge furniture in monochromatic shades.