How do I Choose the Best Contemporary Accent Chair?
The first thing to look for when choosing a contemporary accent chair is clean lines. These overall lines don't have to be straight, just clean as in non-detailed, smooth and geometrical. Whether you prefer a rounded, low-backed accent chair or a straight-lined high-backed one, it should coordinate well with your other furniture. You can choose patterned fabric as long as it's modern and graphic. There are many options for materials for this kind of accent chair including plastic and rattan as well as a fabric-covered seating piece.
If you want something really different for a contemporary space, you could consider choosing a surprising type of accent seating such as a wood rocking chair. The trick to doing this effectively though, is not to choose a wood-turned, detailed, rustic type of rocker, but rather a clean-lined, simple contemporary chair shape. The combination of an appropriate contemporary accent chair shape, plus the surprise of it being a wood rocker can make your room look interesting. Be careful to keep other wood tones in the room in coordination with the chair or it will stand out in an unattractive way.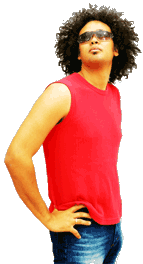 For a more modern, more expected approach, a shaped-wood armchair with up-to-date upholstery fabric is another idea for an accent chair. If your budget is limited, a plastic contemporary accent chair can be a good option. There are many color choices from white to black to vivid colors that can add modern style to rooms. Buying two of the same plastic accent chair can be a good idea because it may offer versatility in using them in separate rooms or together as extra dining seating. For instance, one chair could be placed in a bedroom corner, while the other could be used at a desk in another part of the home; if more chairs are needed to add to a pull-out or drop leaf dining table, they could be set at either end.
Just as printed throw pillows can add interest to living spaces, an accent chair with an allover print fabric can do the same. Tiny or fussy prints don't usually work well in contemporary homes. A bold abstract design or a graphic print is likely to be best for a contemporary, fabric-covered accent chair. If you're going to choose a rattan accent chair, you can liven it up with a throw pillow in an up-to-date print.
Don't just consider design when choosing a contemporary accent chair. Also think about the comfort of a piece. It's fine to use an ottoman in a contemporary living space as long as it also has a clean, geometric structure. A square leather storage ottoman or a round rattan footstool could work equally well depending on your style and the chair with which you want to pair it. You may want to visit furniture showrooms in person to try out different modern chairs to make sure you're picking one that you'll find comfortable.
AS FEATURED ON:
AS FEATURED ON:






Man with hands on his hips