How do I Choose the Best Living Room Design?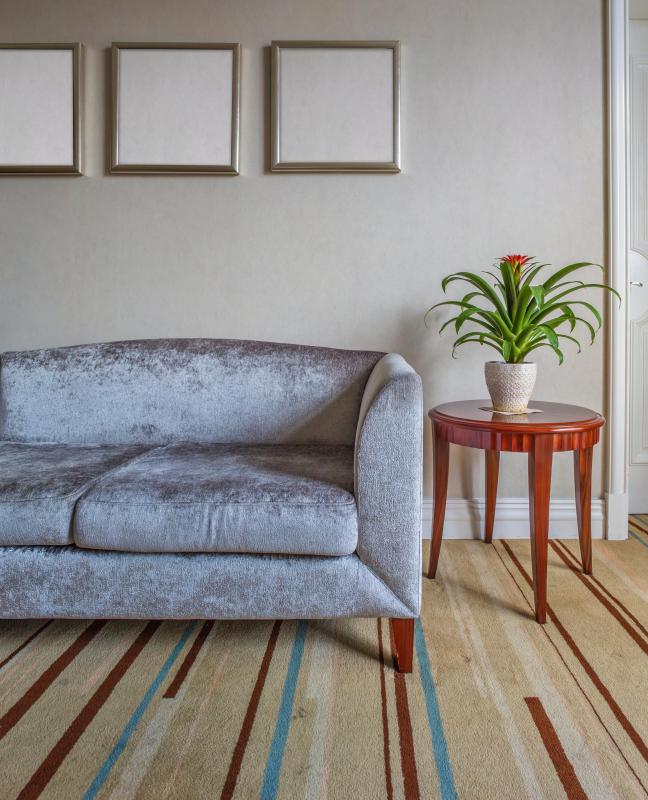 The best living room design is a subjective matter: what works best for one person or family simply may not be functional for another person or family. To begin choosing the best living room design, one should first determine what the living room will be primarily used for. If entertaining guests is the primary goal, a certain set of criteria should be used; if the family's comfort is of the utmost priority, another set of criteria should be used. Once the primary use of the living room has been determined, one can begin assessing the best living room design.
For a more formal living room design, consider using muted tones. Wood tones are always a popular choice, and such tones can be complemented with leather furniture. Using natural wood furniture is always a good decision as well, and cherry, mahogany, and oak pieces may come carved and stained to add a touch of class to the formal living room design. Even with such a design, however, remember that functionality comes first: guests should be comfortable sitting on any of the pieces of furniture, and the room should never be too cluttered.
If a casual, comfortable living room is desired, one might consider lighter tones and comfortable furniture over pricey materials. If kids will be frequenting the room, consider stain-resistant materials for couches and chairs. End tables should provide enough space for drinks and snacks, and lights should be accessible and adjustable. Like the formal design, remember that functionality is key, so the room should not be too cluttered. A few strong, comfortable pieces of furniture should do well. While inexpensive couches and chairs may be fine, consider purchasing furniture that is made from solid wood rather than particleboard. These pieces are more durable and will withstand regular use, especially by kids.
Some living rooms adhere to a certain theme or style. When choosing such a living room design, be sure to research what makes that certain style unique and stick to it. For example, if one is trying to achieve a country style living room, one should avoid contemporary or art-deco furniture and look instead for quaint, simple pieces that fit the theme. Avoid mixing styles and themes, as this may cause the room to look jumbled, piecemeal, or simply uncomfortable. It is also important to remember that the living room should fit with the rest of the house: if every other room adheres to a country style, a very formal living room probably would not fit the flow of the house.
A casual living room may use light colors and comfortable furniture.

Decorated lampshades complement various living room designs.

Some interior designers and decorators specialize in using earth-friendly and sustainably harvested materials.