How do I Become a Certified Personal Trainer?
If you have a passion for health, exercise and personal fitness and want to help others achieve their physical fitness goals, then a career as a certified personal trainer of fitness coach may be the right choice for you. In order to become a certified personal trainer there are some specific guidelines recommended by international personal training associations. In addition to having the desire to remain physically fit and become a motivating force for others, there are educational, training and career experiences required to become a certified personal trainer.
Becoming a certified personal trainer requires several personality traits, skills and qualities which will enable you to motivate and inspire others to achieve more. Personal trainers should be energetic and outgoing individuals with above average leadership and interpersonal skills. In addition, personal trainers know how to get to the root of each client's problems to identify issues which may be holding people back from getting in better shape. Overall, being a certified personal trainer requires a great deal of patience to work with difficult or challenging clients.
Before taking on the responsibility of teaching others how to live a healthy lifestyle, it's important to get the proper training in personal fitness and nutrition which will be the basis for helping others reach their goals. Learning the right techniques for exercise is important, such as the use of different types of exercise equipment and weights. In addition, learning how to create healthy diets which help burn calories and provide enough energy during the course of a fitness regime can be beneficial. This training can be obtained in a certified personal trainer program or by working with a more experienced trainer.
In addition to getting training to become a certified personal trainer, you will need to take a course which will expose you to the basic fundamentals of teaching others to get motivated and achieve their goals. You can find a wide range of local and regional certified trainer courses both in classrooms and online. By the time you have completed the course material, you will be able to become a certified personal trainer in your area of expertise. You may also want to go on to get training as a certified nutritional counselor, physical therapist or athletic trainer as a compliment to this certification.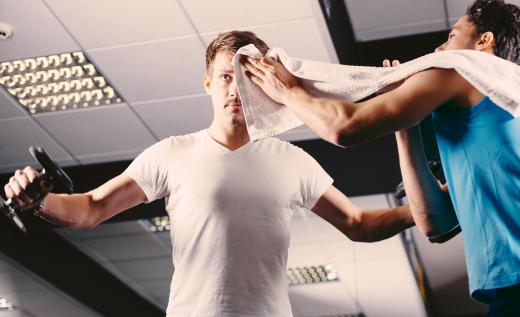 The best way to find employment as a certified personal trainer is to check with local fitness centers and exercise clubs to see if there is a need for quality personal training support. Alternatively, you may choose to start your own personal training company and conduct your work in clients' homes or in a local gym environment provided by a community center or school. Be sure to check to see what business and insurance requirements are needed in order to work as an independent personal trainer if you decide to go this route.
AS FEATURED ON:
AS FEATURED ON:






By: Dana Heinemann

Resorts often have personal trainers on staff.

By: Dirima

Someone who wants to become a certified personal trainer needs proper training and nutrition.

By: berc

Certified personal trainers need to learn to motivate others to achieve workout goals.

By: Mat Hayward

Personal trainers often get accredited through the American Council of Sports Medicine or the American College of Exercise.

By: taramara78

A personal trainer should carry liability insurance.