What Are the Different Types of Personal Trainer Qualifications?
The different types of personal trainer qualifications are typically segmented by the instruction's focus and the trainer's formal educational background. In order to qualify for some types of certification, the equivalent of a U.S. master's degree is necessary. Some of the more common types of professional qualifications for personal trainers include group exercise instructor, personal trainer, and health fitness specialist. Other specialities in which trainers may be certified include assisting with physical rehabilitation, working with the elderly, and helping those with terminal illnesses to stay active.
Personal trainer qualifications are often obtained through a combination of formal degree programs and the completion of nationally recognized certification workshops. One of the types of professional certifications available is that of the group exercise instructor. This qualification means that the personal trainer has the ability to facilitate exercise classes and may incorporate several techniques from a variety of sources. These trainers often are able to suggest modifications to standard routines to accommodate for individual needs or fitness levels.
Becoming certified as a personal trainer allows fitness professionals to provide individual instruction and develop personalized exercise regimens. Many of those with personal trainer qualifications also help develop personal nutrition plans to aid clients in achieving their fitness goals more efficiently. This is one of the basic types of certification that most fitness facilities favor and does not necessarily require a college degree. Health fitness specialists typically possess an undergraduate degree and may work with specific segments of the population, such as those receiving treatment for HIV infection.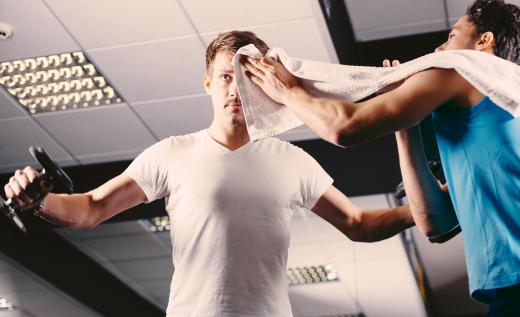 Professionals who have completed an advanced degree in exercise physiology, sports medicine, or health science may obtain personal trainer qualifications that focus on clinical exercise research or helping individuals recover from severe injuries. These types of personal trainers usually work in a medical facility, such as a hospital or rehabilitation center. Clinical exercise physiologists work with and study how physical activity can prevent or delay certain diseases, including diabetes and heart disease. Some trainers focus on recovery from specific sports injuries.
Another of the types of personal trainer qualifications deals with designing and implementing physical activity programs for the terminally ill. For example, a national certification board in the United States offers certification for personal trainers who wish to work with cancer patients. The educational program familiarizes trainers with the specific needs of cancer patients and survivors. These professionals tailor exercise and nutrition programs to the side effects of the disease and its various treatments.
AS FEATURED ON:
AS FEATURED ON:






By: Dana Heinemann

Personal training programs can include activities that exercise multiple body systems at the same time.

By: berc

Personal trainers are often asked to modify standard routines to accommodate an individual's goals.

By: taramara78

In order to qualify for some types of personal trainer certifications, the equivalent of a U.S. master's degree is necessary.