How Do I Choose the Best Personal Trainer Courses?
In many countries throughout the world, you will need to become certified in order to become a personal trainer. You will need to take courses that will allow you to obtain the proper certification, so the first step in choosing the best personal trainer courses for you is to ensure the courses you are considering will allow you to earn the proper credentials. Make sure completing the course will result in certification that is recognized in your area. If you are unsure which certifications are necessary, it may help to talk to a current personal trainer.
Talking to a current personal trainer will also give you some insight as to which personal trainer courses are best. Find out what coursework the trainer took to get certified, and ask whether he or she would recommend those particular personal trainer courses. The trainer may be able to recommend courses offered locally, and he or she may be able to tell you how to prepare for the coursework before you enroll. Once you have a good idea of what programs are recommended and which ones are offered in your area, think carefully about your budget for attending classes.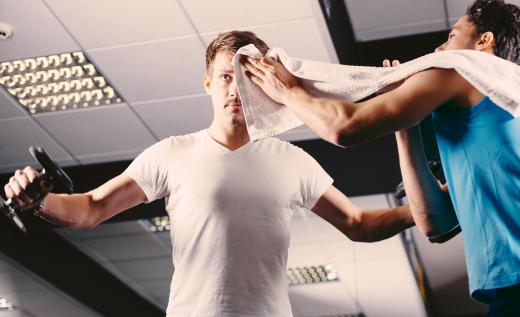 The enrollment and tuition fees of personal trainer courses will vary from institution to institution; sometimes the courses are held online, which can often save money and help you work around a complicated schedule. Remember, however, that online courses usually translate into less face-to-face time with the instructor, and you will usually be required to self-direct your learning. This is difficult for some types of students, so you may be better off in an on-site classroom if you learn better with one-on-one attention and clarification. On-site classroom courses are likely to be more expensive, so you will need to consider your budget carefully before enrolling.
Think about what you want to do with your certification once you complete the necessary personal trainer courses. This may have an impact on which courses you choose, as some courses may be more specialized for a certain career path. If at all possible, do a bit of research about the instructors of the course to find out what kinds of jobs they have worked, or what areas of fitness they focus on. If you find an instructor who you would be excited to work with, choose that program, even if it costs a bit more money. If you are happy with the instructor and the subject matter, you will be more likely to excel.
AS FEATURED ON:
AS FEATURED ON:






By: berc

Someone already employed as a personal trainer might offer guidance to those wanting to learn.

By: taramara78

Budget is an important consideration when choosing the best personal trainer courses.