How do I Become a Business Transcriptionist?
If you have a keen listening ability, above-average typing skills and a general interest in business office work, then a career as a business transcriptionist might be a good fit for your skills. Business transcription is a lucrative career that involves listening to recorded notes on an audio device and then transcribing the words onto a specially formatted document for later use. To become a business transcriptionist, it's important to understand the basic skills, training and requirements of the job to determine if this is the right career for you.
Business transcriptionists may work in offices or at home. There are full- and part-time assignments available for business transcriptionists in many different industries including financial, health care, research, government agencies and plenty of other general business fields. Business transcriptionists often enjoy comfortable work environments and sit at desks for a majority of the workday.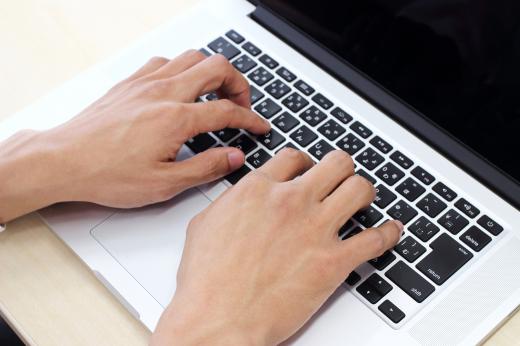 The general educational requirements to become a business transcriptionist include having at least a high school diploma and some additional training in business typing and document processing. Many business transcriptionists take entry level business courses in school or college and learn typing and keyboard techniques by using desktop computers. There are also some organizations that require certification in transcription or at least a two-year degree in business in order to be considered for employment.
Training to become a business transcriptionist can be obtained through a regional or online business program provided by a college, university, or trade school. The training generally lasts anywhere from six to eighteen months and a general certificate of completion is provided. Some general business transcriptionists are also self-taught through years of working in office environments, so experience can supersede an actual certification.
The skills needed to be a professional business transcription include having a typing speed of at least 65 words per minute, a high level of accuracy and excellent grammatical skills. Listening skills are vitally important, as the business transcriber will need to actively hear recordings of meetings, memos and other business events. In addition, a general knowledge of shorthand is helpful for taking meeting minutes.
In addition to the obvious skills to become a business transcriptionist, there is special transcription equipment that must be used to process large amounts of business documentation. Being able to use a dictation machine and micro-cassettes or a desktop computer that includes transcription software, foot pedals and headphones are a necessity for transcribers to work efficiently. Proper use of the equipment can make a business transcriptionist much more adept at performing the repetitious work that transcription involves.
AS FEATURED ON:
AS FEATURED ON:






By: taa22

Business transcriptionists must have strong typing skills.

By: Monkey Business

A business transcriptionist may transcribe business meetings.