How do I Become a Transcriptionist?
In order to become a transcriptionist, you first have to be sure you have three crucial skills. One, you have to have excellent listening ability. Two, you have to have quick, accurate typing skills. Three, your language, grammar and spelling have to be strong. Of the main different types of transcription — corporate or general, medical and legal — only medical transcriptionists usually need formal training.
To become a transcriptionist in the medical field, education and training in medical terminology, anatomy and pharmacology are required. Information recorded by doctors needs to be transcribed into official health reports, so complete accuracy on the part of the medical transcriptionist is essential. It's a good idea to check the successful hiring rates of graduates before deciding on a particular medical transcriptionist school program. Some programs in medical transcription include a practicum and this can be a good way to start to become a transcriptionist. A practicum is work experience in an actual job setting as part of a learning program.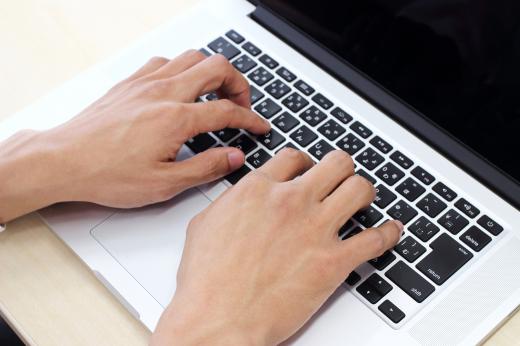 Medical transcription programs may take anywhere from 6 to 8 months to complete. Medical transcriptionists work in doctor's offices or in hospitals as well as for transcription services. With some experience, a medical transcriptionist may often be able to work from home as an independent contractor. In order to become a transriptionist of any kind, confidentiality and respect for patient and client privacy is required. Many organizations expect job applicants to do well on a transcribing test before they can become a transcriptionist for the company.
Becoming a corporate, or general, transcriptionist requires no special training except basic transcriptionist skills. Some previous experience in a business environment working with clients is preferable if you want to become a transcriptionist in the corporate world. You have to be able to format each company's materials into the exact format requested. Organization is also necessary in transcription because the work for different clients must be kept neat and separate.
The field of legal transcription is relatively new. Like, general or corporate transcriptionists, legal transcriptionists usually don't need any formal training. However, a working knowledge of correct legal terms is important. Legal transcriptionists listen to legal discussions, court hearings, pleadings and testimonials. They may work in legal departments of corporations or in law firms.
Working from home as an independent contractor is often an option for a person who wants to become a transcriptionist in the legal field. There is competition for jobs due to companies that outsource legal transcription work overseas. Work can often be found if the applicant has a record of 100 percent accuracy in preparing legal reports from listening to recorded information.
AS FEATURED ON:
AS FEATURED ON:






By: taa22

A transcriptionist should be familiar with computers.

By: Monkey Business

A medical transcriptionist should have experience with medical records, which contain information about a patient's health and medical treatment history.