What Is Strawberry Buttercream Frosting?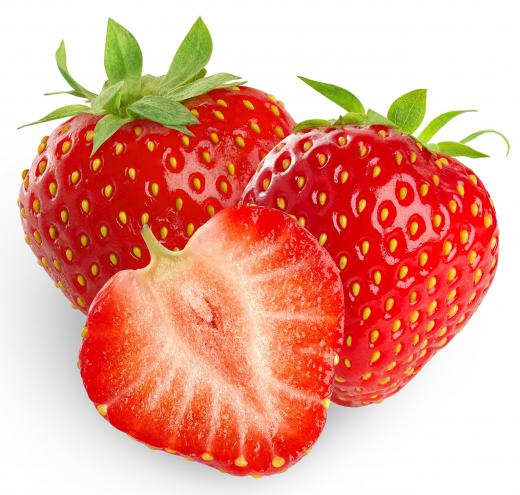 Strawberry buttercream frosting is a type of cake or cupcake icing that is made with butter and powdered sugar as well as strawberries. Buttercream frostings serve as rich, creamy additions to desserts. Although strawberry buttercream frosting is often paired with strawberry flavored cakes and cupcakes, it can also match well with vanilla, chocolate, and white or yellow cakes.
The simplest versions of strawberry buttercream frosting contain only butter, powdered sugar, and strawberries. Strawberries are often fresh but may be frozen. Strawberry preserves can usually be substituted. If fresh or frozen berries are used, they are usually pureed in a food processor. Most versions also add vanilla extract, and many will add egg whites or heavy cream. Occasionally, a solid shortening will be included as well.
There are many ways to make this icing. The butter is often beaten or creamed until it is fluffy, then the rest of the ingredients are added and mixed. Other versions add the butter, vanilla, and sugar directly to the strawberries after they are pureed, resulting in the frosting being created entirely in the food processor.
Still others mix egg whites and sugar over heat in a double boiler to dissolve the sugar before transferring the mixture to a stand mixer. The sugared whites are then beaten until stuff. Gradually, the butter is added. Once the butter is incorporated, the mixer is fitted with a paddle attachment, and the strawberry puree is included.
Regardless of the combining method, strawberry buttercream frosting is mixed until it is smooth and creamy. Although it should not be too firm, properly made frosting is not runny. If the frosting is runny, usually more sugar should be added. Conversely, if it is too stiff more strawberries can be included. This icing is normally pink when finished.
Once complete, strawberry buttercream frosting can be used to ice cakes, cupcakes, or any other frosted dessert. Strawberry and vanilla flavored desserts most commonly use this topping, but chocolate and other flavors can benefit from the strawberry flavoring as well. After the dessert is frosted, it can be garnished with small fresh strawberries. Any unused frosting should be refrigerated.
When using strawberry buttercream frosting, a palette knife, spatula, or pastry bag may be used to apply the icing to the desserts. Palette knives and pastry bags work best with cupcakes. Spatulas are best used on cakes, but pastry bags may be used to add additional decorations.


By: Anna Kucherova

Strawberries.

By: VL@D

A stand mixer may be used to mix ingredients for buttercream frosting.

By: fantasy

Strawberry buttercream frosting may be applied to desserts using a palette knife.