What Is Strawberry Frosting?
Strawberry frosting is simply a type of frosting that has been flavored with real strawberries or some type of artificial strawberry flavoring. This type of frosting can be purchased commercially, or it can be made from scratch. To make simple frosting, powdered sugar can be beaten with butter, cream cheese, or whipped cream. Strawberry flavored frosting is most often used for strawberry cake and cupcakes.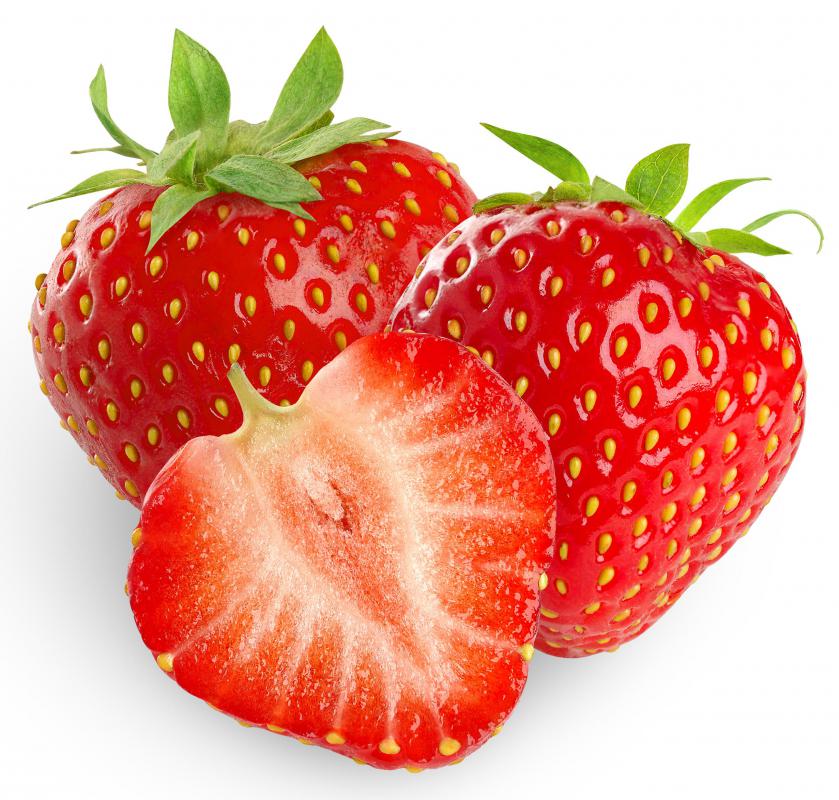 Frosting is a sweet, thick mixture that can be spread on a number of baked goods, including cakes, cupcakes, and cookies. It is typically thicker than icing and glaze. Strawberry frosting is a type of frosting that tastes like strawberries.
Fresh or frozen strawberries can be used to make strawberry frosting. The fruit, however, must be pureed before it is added to the frosting. A blender or food processor can be used to do this. The pureed fruit can also be strained through a mesh sieve to remove any large chunks of fruit.
Artificial strawberry flavoring can also be used to make strawberry frosting. Strawberry extract can be poured into a basic white frosting, for instance. A few drops of candy flavoring oil can also be used. Some cooks even recommend mixing a packet of unsweetened strawberry drink mix into the frosting.
Instead of buying commercially made frosting, many people make their own strawberry frosting from scratch. Butter cream frosting is a very simple type of frosting made from butter. After the butter has been softened, powdered sugar is beaten into it until it is has reached the desired consistency and flavor. Once the basic frosting has been made, pureed strawberries or strawberry flavor can be added. Milk can also be added to make the frosting thinner, if necessary.
Cream cheese frosting is one of the easiest and most popular types of frosting to make. To make this type of frosting, powdered sugar is blended with softened cream cheese. Softened butter can also be mixed in with strawberry cream cheese frosting as well.
Whipped cream frosting is another popular type of frosting. This is made by beating heavy whipping cream with powdered sugar. Once the frosting has been beaten sufficiently, it should be very light and fluffy.
Strawberry frosting can be used to frost nearly any type of cake. It typically goes best on strawberry cake, but it can also be spread on chocolate or white cake. Fresh strawberry slices can be added as garnishes.