What Is Primary Health Care Nursing?
Nurses hold millions of jobs in the healthcare industry. There are often a variety of directions one's career can go. Primary health care nursing generally involves working directly with patients, and someone who works in this field usually needs higher education and a credential in his or her discipline. A registered nurse in health care may work with a physician or provide services as a primary care provider. Anesthesia, specialized care, emergency treatment, and gynecological care are often accomplished by nurses; there are also management and other business-related jobs in the field.
Primary health care nursing is generally an in-depth career, so education at the bachelor's degree level, or a certification, is usually required. Clinical specialists generally work directly with patients in areas such as mental health or physical therapy. At this level of nursing, there are also jobs administering anesthesia. Professionals can also provide care before surgery or afterwards, as well as provide therapy and diagnose complications during recovery. They sometimes treat emergencies directly and can also offer pain management services.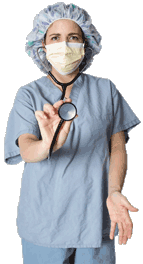 Additional primary health care positions held by nurses include nurse-midwives. These professionals can perform routine gynecological exams, help care for pregnant women, assist with childbirth, and guide parents in family planning. A nurse practitioner can offer primary care or work in specialty medicine. Healthcare essentials as well as nursing services are often provided by the same person.
Primary health care nursing is also practiced at the business level. In addition to having knowledge of how to treat patients, these professionals can manage ambulatory, home, and chronic care agencies. They also work at hospitals, pharmaceutical companies, as well as insurance firms. A master's degree or higher is often required for these positions.
Various duties are encompassed by primary health care nursing, including the promotion of healthy lifestyles as well as preventing and managing diseases. The way it is modeled, both in education curricula and career planning, has been addressed by the World Health Organization (WHO). Nursing roles in managing, planning, and training have been addressed throughout health care systems. The participation of nurses in research has also been stressed.
Primary health care nursing often focuses on the care of children, which can be provided at a medical clinic or at home. Home-based medical services typically help children with special needs while enabling a family to avoid the medical costs of hospital stays. Nurses in primary care often assist adults as well, to provide basic health treatments as well as help with basic needs at home.
AS FEATURED ON:
AS FEATURED ON:






Doctor