What Is Involved in Human Resource Management Training?
Individuals who work in human resource management are typically responsible for creating positive work environments for employees, putting together benefits packages, participating in recruiting, and conducting training. They work to ensure that all employees are treated equally and that workers are motivated and behave in ways that demonstrate embracing of company policies and values. Interpersonal skills are a major concern of most human resource management training. Individuals who go through training designed specifically for human resource professionals learn to respect the needs, requests, and opinions of others. They also learn to communicate with employees who might be unhappy, angry, or upset by issues in their personal lives which affect their performances at work.
Many people who go through human resource management training in school takes classes in sociology, psychology, and counseling. A number of business programs offer courses in employee negotiation. Most people who hold human resource management positions have been through training in which they learn how to empathize with others, though they also learn to behave like managers who must set goals that they encourage all employees to follow.
Recruitment usually is a primary responsibility of human resource managers. Individuals who go through human resource management training might learn what to look for in job candidates. They might learn about methods for finding the most promising applicants. Some human resource professionals administer exams that test candidates' ethics, while others might ask interview questions that provide them with insight into candidates' priorities and values.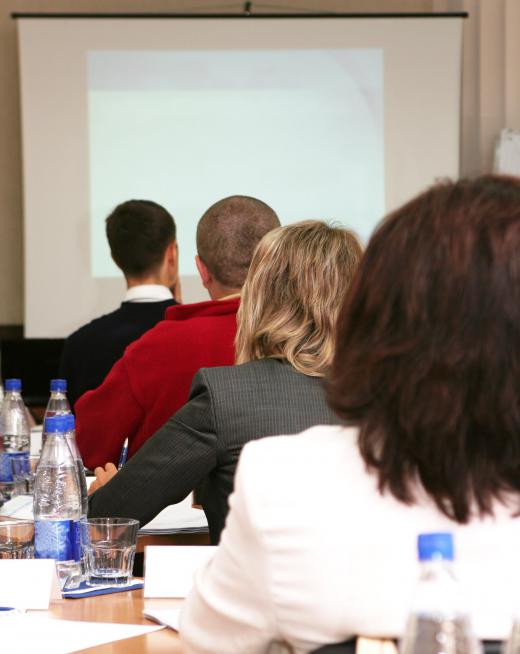 In many cases, human resource management training is specific to a company or industry. For instance, a human resource professional in the financial industry might need to know which qualifications and skills to look for in individuals who perform risk management, analyze markets, and use complicated financial software. Some of the most important human resource management training might include getting to know an industry. Aspiring human resource professionals might be encouraged by executives and upper management to learn which graduate programs, for example, are producing the most well trained graduates.
Most human resource professionals also have to be familiar with laws regulating employment, pay, and benefits. In many regions, individuals who work a certain number of hours per week must receive certain wages or salaries, as well as days off. Aside from following the law, human resource managers also should be aware of levels of satisfaction among employees. When workers feel that they are not getting paid enough or that they are not receiving enough days off, they become unhappy and their performances might suffer as a result. Successful human resource management training teaches trainees to avoid these problems.
AS FEATURED ON:
AS FEATURED ON:






By: Alexander Raths

Human resource management may help mediate disagreements between employees.

By: Dmitry Goygel-Sokol

Professionals can attend training seminars to be more effective human resource specialists.