How Do I Become a Human Resource Trainee?
Human resource trainees are individuals who are learning how to become human resource professionals — people who help companies to hire and retain employees as well as to make sure that their organizations comply with employment regulations. A person who aims to become a human resource trainee should complete four years of college and study business-related courses, as this makes him or her attractive to employers. In addition, he or she has to go through the trainee opportunity application process and gain practical experience that will prepare him or her to claim long-term employment in this industry.
If you seek to become a human resource trainee, you need to complete a four-year bachelor's degree in business or human resource management. Enrollment in this type of training program requires that you turn in your high school transcript and complete your chosen school's admissions form. A college applicant also must submit his or her high school diploma or the equivalent certification in addition to sending in his or her current standardized exam results.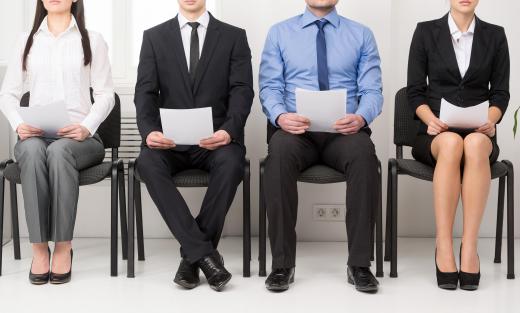 A variety of business courses will prepare you to enter this field. When studying to become a human resource trainee, you should focus on topics such as recruiting, selecting employees, and training staff, as you must perform these duties in the job setting. Courses on accounting and information systems are also valuable because a human resource professional makes decisions that affect an organization's finances and often must use computer systems to manage his or her employee payroll and other staff-related functions.
Applying to a company that is willing to train a person in this career area is an important step to enter this industry. You must turn in a resume highlighting your undergraduate training along with any skills that you have obtained through your coursework. In addition, you need to fill out your chosen organization's application if required to become a human resource trainee there. Completing an interview with the business leader also gives you the chance to explain why you wish to train to enter this field at that particular company.
While on the job, gaining hands-on experience will make you competitive when you begin searching for permanent employment opportunities. You should practice screening job applicants and referring them for interviews when you become a human resource trainee. The training experience also teaches you how to effectively attract employees to your company as well as market the organization's benefits at career fairs and other venues that draw job searchers.
AS FEATURED ON:
AS FEATURED ON:






By: BlueSkyImages

To become a human resource trainee, a qualified candidate needs a four-year bachelor's degree in business or human resource management.