What is a Stafford Loan Lender?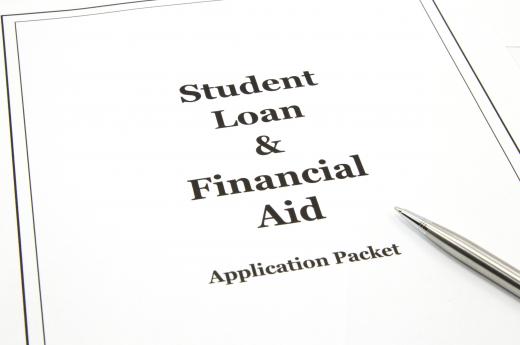 A Stafford Loan lender is a lender who has agreed to offer Federal Stafford Loans, a type of education loan backed by the United States government. These lenders offer financial assistance under the Federal Family Education Loan Plan (FFELP), in contrast with Direct Loans, a type of Stafford Loan in which the funds come directly from the government. Students have the right to choose which lender they work with when they are offered the opportunity to take out a Stafford Loan.
Most financial aid offices maintain a list of Stafford Loan lenders for the benefit of their students and they may offer advice about particular lenders to work with. The interest rates on Stafford Loans are fixed by the government, but the services at various lenders can be very different, and a student who takes the time to pick a good Stafford Loan lender will benefit later in life. Education loans can take decades to repay, especially if they are substantial, making the relationship with a lender important.
When a private lender offers someone a Stafford Loan, the loan is secured by the government, reducing the risk to the lender. In some cases, the loan may have an interest rate which is subsidized, meaning that as long as the patient remains in school, the government will pay the interest. Other loans are unsubsidized, with interest which begins to accrue as soon as the loan is disbursed.
One important thing to think about when selecting a Stafford Loan lender is whether or not a student wants to keep all education loans in the same place. It is usually more convenient to have a single lender, rather than managing loans from several lenders, in which case a student should find a private lender who can handle multiple types of education loans. Students may also want to inquire about loan fees. Some lenders will pay the loan fees for their customers, while others will not. Savings plans are also important; for example, some lenders offer interest rate deductions for students who sign up for automatic payments, and this can save a lot of money in the long term.
Another consideration is whether or not a Stafford Loan lender offers loan consolidation. Many students like to consolidate after they graduate to lock in a low interest rate and to set up a repayment plan in which they only have to mail one payment a month to service all loans, rather than sending out multiple payments. Students may also want to find out whether or not their Stafford Loan lender sells loans, which could force them to switch to a different lender, and they may want to ask about who handles loan servicing for the lender they are considering.


By: mybaitshop

A student loan and financial aid application.