Direct Loans are education loans provided by the United States Government to help finance college education. Students are eligible for Direct Loans under the Stafford Loan program, while parents can access them as part of the PLUS Loan program. To obtain these loans, students must fill out a Free Application for Federal Student Aid (FAFSA), and the financial aid office at a college or university will determine how much money the student needs, and what kind of financial assistance the student is eligible for.
Under the William D. Ford Federal Direct Loan Program which provides Direct Loans, the money is loaned directly by the United States government, not through a lender. The interest rate is typically very low, and the repayment terms are generous. Repayment of Direct Loans usually begins after a six month grace period has elapsed, and various payment plans are available to students, including fixed payments and income-dependent payments.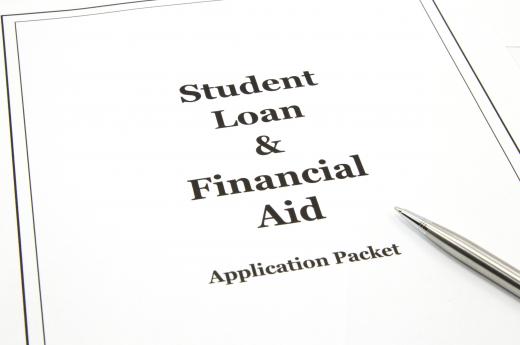 Students of low income can receive subsidized loans, in which the government pays the interest on the loan as long as the student is in school or covered by the grace period. Unsubsidized loans are available for students who do not have as much financial need, or for needy students who need to borrow beyond the subsidized loan caps. Students are limited to specific borrowing caps, which vary depending on a student's year in school, and typically subsidized loans make up only a part of that borrowing cap. Parents are not eligible for subsidized loans.
Under certain circumstances, a Direct Loan can be discharged or forgiven. Forgiveness programs are available for people in certain public service job and for teachers, and the loans may also be forgiven if someone develops a severe disability. Forgiveness is also provided in the event of fraud, such as a situation in which a financial aid office forges a student signature on a promissory note, or if a school closes unexpectedly before a student has a chance to obtain a degree. Repayment can also be suspended without penalties in the event of financial hardship, although the loan will not be forgiven.
Federal Direct Loans are one among many education financing options. Because the lending and repayment terms tend to be generous, many students seek out these loans or look for loans which are secured by the United States Government and issued by private lenders. When evaluating financial aid packages provided by colleges and universities, students should carefully examine the types of loans being offered, considering the interest rates, terms of repayment, and penalties for default.
AS FEATURED ON:
AS FEATURED ON:






By: mybaitshop

Many students apply for loans and other financial aid to pay for college.

By: zimmytws

Direct loans are provided by the U.S. government to help students pay for college.