What Is a Pedestal Basin?
A pedestal basin is a type of bathroom sink that features a built-in support stand and base. These basins serve as an alternate to the traditional drop-in sink, which sits atop a separate vanity or cabinet. Each pedestal basin consists of the bowl itself, which is often surrounded by an apron, as well as a vertical base that connects to the floor. This style of sink is often found in small powder rooms, particularly in half-bathrooms that don't contain a bathtub or shower.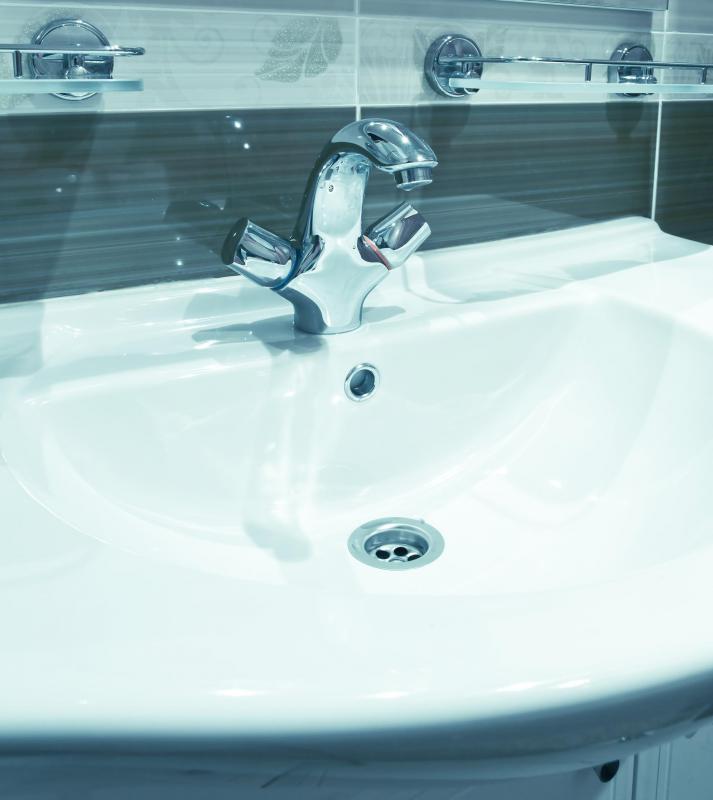 One of the primary advantages of the pedestal basin design is its relatively small size compared to other types of bathroom sinks. This makes this sink the ideal choice for small bathrooms, where a vanity cabinet could take up too much space. The pedestal design also offers a unique aesthetic appeal, and is a must for bathrooms with a historic or period design. While the drop-in sink is the most popular modern sink design, pedestal basins were much more widely used during the late 19th and early 20th centuries. It can be difficult to restore a historic bathroom using any other style of sink.
These sinks also come with several potential drawbacks, including a lack of storage space below the basin. While the pedestal basin provides little storage space in the traditional sense, its small support base does make room for separate storage units or baskets to be placed on the floor nearby. In addition, these units may be used in guest bathrooms where storage space is less of a concern. These sinks may also be more difficult to install than a vanity or drop-in sink, and may require additional wall framing to support the weight of the basin.
Buyers can choose from many pedestal basin materials. Traditional ceramic or porcelain are the most popular options, though some may be made from stone or composite materials as well. Some early units may even be made from iron or other metals. Most pedestal sinks are white or cream colored to match other bathroom fixtures like the tub and toilet. Rarely, some of these sinks feature integral coloring in shades like blue, pink, or yellow.
The shape and profile of each pedestal basin should be chosen to fit the design of the bathroom where it will be used. Many basin shapes can be found, including many with aprons to hold soap and other accessories. Some units feature a built-in backsplash, while others do not. The basin and apron may be round or square, and some even feature distinct geometric shapes and edge patterns that are characteristic of the period in which they were built.