A messy updo is a type of hairstyle in which medium-length to long hair is pulled up off the face and twisted behind the head, often into a bun or ponytail. This is accomplished using hair ties and pins, depending on the hair type an individual has. It can be a nice, casual everyday look that keeps the hair off the face and the back of the neck; with a little modification it can look nice in more formal settings as well. There are a number of different ways to create a messy updo, and many people make this hairstyle part of their everyday look.
It is necessary to have slightly longer hair when trying to accomplish a messy updo. People with short hair may be able to pin it back off the face, but it will be more difficult to create a bun or twist in the back of the head. In general, the best way to begin creating a messy updo is to add some texturizing product to dampen hair, and then drying or curling it so it is dry but not perfectly styled. Starting with slicked-back hair or perfectly smooth, straight hair can make the updo look too formal.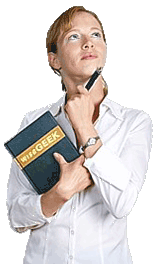 Some people prefer to pull the hair straight back and pin it, while others prefer to part the hair and then pull it back. This is completely a matter of personal preference. It may then simply be twisted into a bun or pulled into a partial ponytail. Some people will try to make the messy updo look more elaborate by pinning the hair rather than twisting it using a hair tie. For people with thin hair, this can be a good way to make the messy updo look a lot fuller on the back of the head; people with thicker or curly hair likely do not need to worry about this.
Finishing a messy updo with some hairspray or shine spray can help to keep it in place and make it look finished. For a more casual look, pulling out a few pieces around the face or a few longer pieces in the back can complete the look. In many cases, a messy updo that is pulled slightly to the side of the head, and fastened at the nape of the neck, can look a bit more formal, and is a good way to take this look from daytime to evening.
AS FEATURED ON:
AS FEATURED ON:






Woman holding a book