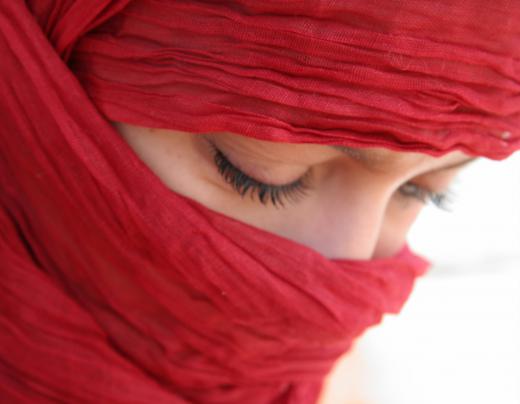 The term "luxury hijab" is typically used to describe a headscarf or head covering worn by Muslim women that is made from expensive material or that includes significant embellishments. As this is primarily a marketing term, it should be noted that what one company considers to be a luxury hijab may be considered quite ordinary by another retailer or consumer. In addition, some fashion designers may produce a line of head coverings that may be deemed as luxury items by some followers of fashion. Women considering the purchase of a luxury hijab may wish to think about the clothing standards of the community in which they live. Some may argue that an expensive or ornate hijab is incompatible with modesty standards, as it attracts attention and may be an indicator of a woman's economic status.
According to Islamic dress codes, women are typically expected to wear some type of covering over their heads. The degree to which a woman's hair and head are to be covered is a matter of some debate, and there is a significant difference in the amount of coverage offered by various types of hijabs. Some types of head coverings and scarves are very plain in appearance, while others may be much more elaborate. As such, a woman may choose to wear a luxury hijab for special occasions or because she wishes to project a more formal, professional appearance at work or in a social context.
The construction of a luxury hijab may not differ much from other hijab designs, although the workmanship may be superior to cheaper alternatives. What may distinguish an expensive hijab from a bargain-priced head covering is its materials. For example, a silk hijab will typically cost more than one made from cotton or polyester.
More formal or elaborate hijabs may not only be made from expensive, high-quality fabric, but may also include various details that make them more distinctive and attractive. For example, a luxury hijab that is suitable for formal occasions may be embellished with sequins, rhinestones, or even fabric flowers. A hijab may also be made from a piece of fabric with frayed edges. To accompany the wearing of a luxury hijab, a woman may choose to wear hijab pins made from precious metals and gems. She may also choose to wear a cap or underscarf made from lace or fabric that is embellished to match or contrast with the headscarf that she wears.


By: Claus Mikosch

A luxury hijab is a headscarf worn by Muslim women that is made out of expensive material.