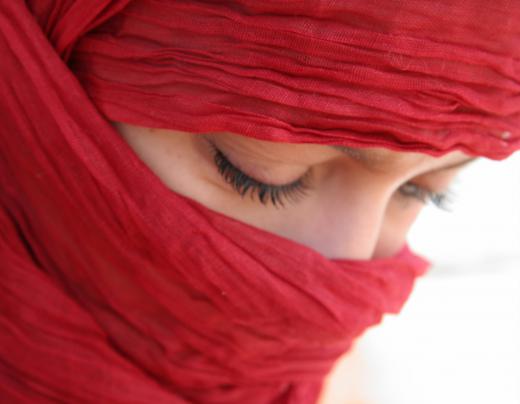 Hijab pins are designed to hold the hijab, a headscarf or head covering, in place on its wearer's head. These pins come in a variety of styles and can allow the wearer to drape her headscarf in a variety of ways so as to achieve a comfortable, attractive look. In addition, hijab pins may also be used to secure a niqab, or face veil, to the hijab so that it too remains in place. Many companies sell hijab pins in styles ranging from very plain to highly decorative, which allow women who wear the hijab to further accessorize their outfits.
Muslim women as well as non-Muslim women living in Muslim countries often wear the hijab in deference to the modesty codes of Islam. For these women, keeping a headscarf securely in place is an important aspect of maintaining their modesty while also adhering to cultural and, in some cases, even legal requirements. The hijab pin can be used to ensure that the scarf remains taught over the head, covering a woman's hair completely, and will help prevent the scarf from dislodging or blowing off in the wind.
In many Muslim cultures, women often have significant freedom in their choice of fashions, provided that modestly standards are upheld. Women will often experiment with different ways of wrapping scarves around their head and upper body, combining two or more scarves for color contrast or matching a scarf with a tight cap in another color. The use of hijab pins allows a woman to more freely experiment with these looks, as they can hold her wraps in place.
Many companies that sell traditional and modern hijabs also sell hijab pins, which are often promoted as being less likely to snag or tear scarves than ordinary safety pins. Some pins incorporate plastic or wooden embellishments for a more attractive look, and these pins can be paired with headscarves in contrasting colors for a distinctly modern and fashionable look. Some pins also incorporate danging beads, making the pins look more like jewelry than a functional item. In addition to their use with a hijab, these pins may also be used to attach face veils to a hijab, providing an additional degree of modesty. In many cases, full or half face veils, known as niqabs, are tied to a woman's head, but she may also decide to use hijab pins to secure it to her headscarf for additional reinforcement.


By: Claus Mikosch

Hijab is a term that may apply to the headscarves that Muslim women often wear.

By: Jeanette Dietl

Hijab pins are commonly used by women who wear niqabs to secure the veil in place.