What Is a Home Security Camera?
A home security camera is a type of security camera that can be used to monitor and record action around a home. There are several different types of home security cameras, including night vision cameras and hidden cameras. Some of these cameras may even be wireless or motion activated. Proper installation of these types of cameras is important, and hiring a professional is usually advised.
Many home security systems include at least one home security camera. Security cameras increase the safety of a home's occupants. Those inside can monitor, and sometimes record, activities going on in and around the home. Cameras are sometimes placed inside and are often placed around the perimeter of the home and at the front door.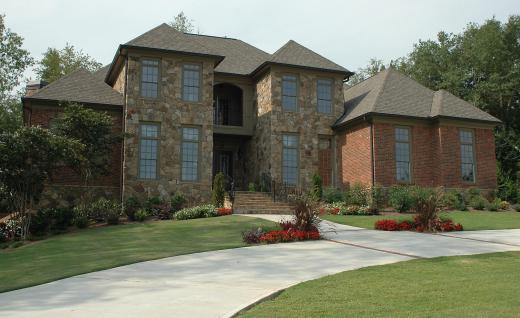 Sometimes, a home security camera can allow occupants to watch activity as it happens. These are excellent for keeping an eye on children as they play. Other times, a home security camera can record action to view at a later date. These types of security cameras can be very helpful if a crime was committed in an occupant's absence.
A home security camera can be visible, if a homeowner chooses. These cameras, when seen by possible criminals, can help deter a crime. Hidden cameras, however, are also available, and these are usually quite small.
Color and black-and-white images are available with different types of security cameras. Generally, a color home security camera is more clear in areas with more light. A black-and-white home security camera, on the other hand, is typically clearer in areas with less light. Infrared cameras are also available, and these are sometimes referred to as night-vision cameras.
A wired home security camera is plugged directly into a video recorder or computer. Wireless security cameras, as the name suggests, do not need any wires to provide a video image. These work by transferring a wireless signal to a receiver. These are generally considered to be less secure, since this signal can be intercepted, but they are also much more flexible.
When installing a home security camera, keep in mind a camera should be mounted to a solid surface to avoid shaking. Also, outside cameras should be protected from the weather.
Professional installation of home security cameras is typically recommended. A professional will also ensure that the use of the security cameras complies with the local laws. In the United States, for example, it is illegal to record people without their knowledge in many areas. This problem can usually be solved by placing signs around the perimeter of the home.
AS FEATURED ON:
AS FEATURED ON:






By: itsallgood

Home security systems can be costly, but they are usually worth the investment, especially in nicer homes that are prime targets.

By: Giuseppe Porzani

Home security cameras may be used to monitor areas inside or outside of a home.

By: Brian Jackson

Home security cameras can help protect people inside homes as well as belongings.