What is a Garden Designer?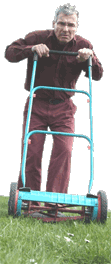 A garden designer is someone who conceptualizes a garden design and oversees its execution. This may be done on an amateur or professional level. Amateur garden designers may or may not have formal training, while professional designers are generally required to have credentials in garden design, landscaping or horticulture. In some cases, an amateur designer, with sufficient experience and on-the-job-training, may set up business as a professional garden and landscape designer. People with training in other art disciplines, if they have the aesthetic acumen and enthusiasm for landscaping, may also venture into garden designing.
To design a garden, the garden designer must first survey the site and consider the type of garden that might suit that particular terrain. Having knowledge of different garden styles can help the designer be aware of different design possibilities. The designer must consider issues like climate and soil type, water availability, and plant species and plant growth requirements. It is necessary to plan for garden elements like paths, fountains, waterfalls and ponds, and be knowledgeable about the different materials and techniques used to build these. Garden designers also need to know about garden irrigation systems and equipment.
If designing for a client, it is essential that the garden designer take the time to understand the client's requirements and discuss the design process with them. It may be necessary to explain to the client the amount of maintenance that will be needed. The question of upkeep and maintenance is an important one as the continual well-being of the garden ultimately depends on this. Some garden designers may offer regular maintenance services to keep the garden in shape.
After discussing the garden design requirements with the client, the designer will prepare concept drawings, incorporating aesthetic and compositional elements. The concept drawing may be done on paper, but more and more designers are using computers to execute their designs. It is possible to get a realistic idea of what the final garden will look like using computer technology.
The garden designer will need to know about local building regulations and must get any required permissions before beginning work on the garden. The actual work may be sourced out to various specialist contractors. For instance, a plumbing contractor may be hired to install the watering system, a building contractor to undertake the construction work and a nursery contractor to deliver the garden plants.
Since the work requires interactions with a variety of personalities, it is necessary for a garden designer to have good interpersonal skills. Business and finance management skills will also come in handy. Many garden designers maintain websites showcasing their credentials, their projects and their client list.
Man mowing the grass