What Is a Chicken Ranch Casserole?
Chicken ranch casserole, despite its name, does not traditionally contain ranch-style dressing. Instead, it is usually a combination of chicken, cream of chicken soup, cream of mushroom soup, diced tomatoes, and pasta. A chicken ranch casserole may also include chili peppers, hot spices, and tortillas. The end result is a Tex-Mex blend of flavors that are often featured in the southern United States. The recipe's name may come from some viewing it as a typically southwestern, or rancher-style, dish.
A classic chicken ranch casserole usually begins with shredded chicken. Some cooks prefer to use a whole chicken, while others only use thighs or breasts. Often, the chicken included in this recipe is left over from a previous meal, thus cutting down on work and cooking time. Alternatives can include planning ahead and baking the chicken the night before, stewing it in a slow-cooker with chicken broth, or purchasing a pre-cooked rotisserie chicken and shredding it at home.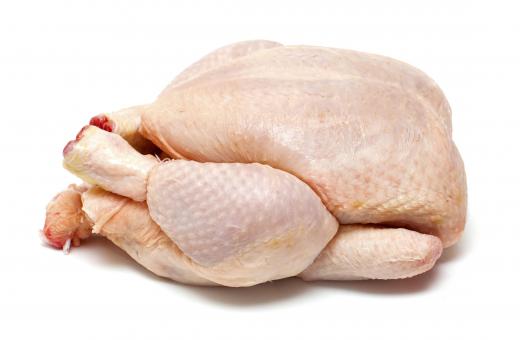 The chicken needs no real seasoning, though many cooks like to at least sprinkle it with salt and pepper prior to baking or shredding. Others may prefer to marinade it in hot sauce, for extra spice, or add a dry rub of garlic and onion powder for an extra touch of flavor. The only true requirement is that the chicken be cooked and in small pieces.
A number of different kinds of vegetables may go into chicken ranch casserole. Chopped onions, diced tomatoes, and green chili peppers are traditional. Green and red bell peppers and sliced mushrooms also frequently make an appearance. Some enterprising cooks even like to include jalapenos, pablanos, and other kinds of spicy peppers. All of these veggies must be lightly sautéed before going into the casserole to mellow their flavors and soften them slightly.
Another Mexican-style touch to chicken ranch casserole includes the crust. Generally, cooks tear or snip corn and flour tortillas into strips and press them into a lightly buttered casserole dish, patchwork style. This usually creates a thin, crisp, flaky crust for the casserole. Any kind of tortilla may be used, from whole wheat to those infused with spinach, tomato, or garlic.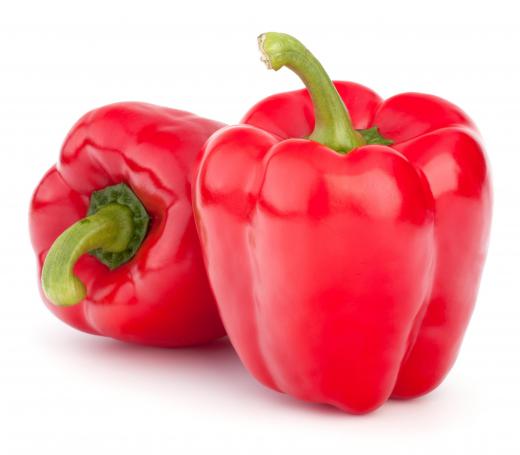 The last part of a chicken ranch casserole usually involves two traditional soups, cream of mushroom and cream of chicken. Cooks looking for a speedy meal may prefer to use canned soups, but one may also make homemade versions and use those instead. The soups, shredded chicken, and vegetables all get mixed together and poured into the tortilla crust. Everything is typically covered with a generous helping of cheddar cheese, though some may prefer pepper jack or Colby. The casserole is fully cooked when it is bubbly and the cheese is melted and golden.
AS FEATURED ON:
AS FEATURED ON:






By: Diana Taliun

A chicken, which is used to make chicken ranch casserole.

By: Bert Folsom

Sharp cheddar cheese is often used to top chicken ranch casseroles.

By: Natika

Red bell peppers are a common ingredient in chicken ranch casserole.

By: Bert Folsom

Pepper jack can be used in place of cheddar for a spicier chicken ranch casserole.

By: Jiri Hera

Flour tortillas are often cut into strip for use in a chicken ranch casserole.

By: Monkey Business

The chicken for a chicken ranch casserole can be seasoned using a dry rub prior to cooking.