What Is a Chicken Divan Casserole?
Chicken divan casserole is a classic American casserole made from shredded chicken, broccoli and a creamy sauce with cheese that is baked in an oven. The recipe originated in the early 20th century in a New York City hotel, where the sauce was made from sherry, flour, cheese and cream in a traditional Mornay-style preparation. As the dish became more popular as a homemade meal, the sauce was replaced by the use of condensed, canned soups that gave a reasonable approximation of the French mother sauce. Chicken divan casserole is topped with Parmesan cheese and breadcrumbs that slowly toast in the oven, making a crispy shell on the top. The final dish can be served over egg noodles, alongside toasted bread or with a dressed green salad.
The chicken used in a chicken divan casserole is precooked and then shredded. Some recipes call for the chicken to be spiced and then fried, although the original recipe just calls for the chicken to be poached in water with some salt. Once it has cooked and cooled, the meat is taken from the bones and either chopped into small pieces or shredded with two forks.
While the chicken is being prepared, the broccoli can be cooked. It will be baked with the rest of the chicken divan casserole, so using frozen broccoli will give as equally good results as fresh broccoli. It needs to be parboiled and then chopped into bite-size pieces, unless the presentation requires whole florets. Whether the stems are used is a matter of personal taste, although they are given enough cooking time to become tender.
After the chicken and broccoli are done, they are placed in a casserole dish and the sauce is prepared. The authentic recipe starts with butter and flour that are heated in a pan until they combine, become thick and a small amount of browning occurs. At this point, milk, cream or chicken stock is added slowly so the flour can absorb the liquid. Through the entire process, the sauce should maintain a thick consistency. When the cream has been incorporated, cheese such as cheddar, Gruyere or Parmesan is added and stirred until it thickens the sauce and melts evenly into it.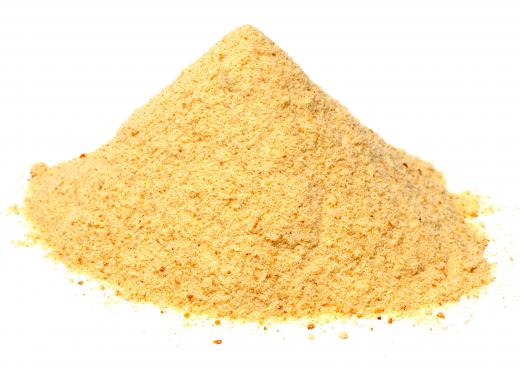 More convenient versions of the chicken divan casserole sauce use condensed canned mushroom soup or chicken soup. This can be complemented with sour cream or mayonnaise to add more richness. The traditional Mornay sauce also can be made lighter by using stock instead of cream and either reducing or eliminating the cheese.
The sauce is poured over the chicken and broccoli before breadcrumbs mixed with Parmesan cheese are sprinkled generously over the top. The chicken divan casserole then cooks in the oven until it is done. The dish is very versatile and has a taste that is not too strong, so it can accompany a range of vegetables or salads.
AS FEATURED ON:
AS FEATURED ON:






Thick slice of Gruyere cheese, which is commonly included in chicken divan casserole.

By: Bert Folsom

Grated Parmesan cheese is often used to top a chicken divan casserole.

By: Vidady

Breadcrumbs are used as a topping for chicken divan casserole.

By: Lucky Dragon

Chicken divan features a Mornay-inspired cream sauce.

By: Nitr

Broccoli is a key ingredient in chicken divan.