What Are the Different Types of Healthcare Industry Jobs?
Healthcare industry jobs refer to occupations involved in the physical or mental wellness of individuals and their families. There are 60 million healthcare professionals across the globe as of 2011 working in various positions such as pharmacists, nurses, and doctors. Alternative medicine is an area of the healthcare industry consisting of providers like naturopathic doctors (N.D.) who treat conditions using therapies such as acupuncture and homeopathy. Due to shortages as of 2011, many job opportunities exist in healthcare and are expected to continue to grow.
Charged with dispensing drugs to the public, as of 2011, pharmacists are in high demand all over the world particularly in countries lacking common drugs necessary for life-threatening conditions. Duties include drug compounding, a method of creating a medication specifically for a particular patient, and educating people about the drugs that they are taking. Work settings vary as pharmacists are often employed in retail stores, hospitals, and doctor's offices.
Nurses provide healthcare to patients in doctor's offices, emergency departments, and residential care facilities. Some of their duties include monitoring vitals, administering medications, and wound care, but the scope of practice does depend on the type of training completed and the region in which they practice. Due to a worldwide need of nurses as of 2011, these healthcare industry jobs are abundant especially in areas where it is difficult to retain nurses. New graduates sometimes find it hard to obtain employment, however, due to lack of experience.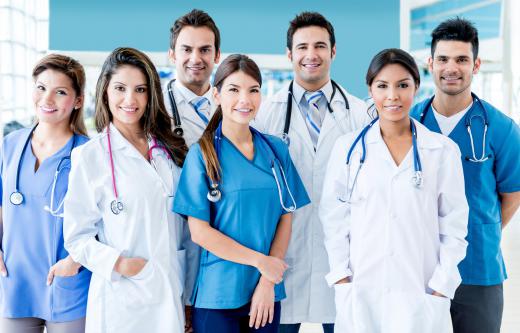 Other healthcare industry jobs such as the physician, physician's assistant (PA), and nurse practitioner (NP) are experiencing an increased need particularly due to new healthcare reform laws and an aging population as of 2011. While physicians diagnose and treat illness, the PA and NP can perform many of the same duties as doctors even though the PA works under the supervision of a physician. The NP may or may not require such supervision depending on where he or she practices. It is likely that these roles in primary care will become very essential in years to come, especially physicians specializing in primary care.
Often confused with homeopathic medicine, naturopathy involves working with the patient's natural mechanisms of self-healing while encouraging changes in lifestyle. Naturopathic doctors specialize in diagnosis and treatment of disease using these primary principles, as well as ayurvedic and Chinese medicine. The lifestyle, emotional well-being, and diet of an individual are considered when a diagnosis and regimen of treatment are determined.
As of 2011, a home health aide is one of the fastest growing healthcare industry jobs. Home health aides typically assist elderly and disabled patients with grooming, bathing, and eating. Sometimes they perform light housekeeping duties and prepare meals while caring for people in their homes. This position is considered to be part of the nursing profession, but is an unlicensed healthcare role.
AS FEATURED ON:
AS FEATURED ON:






By: Minerva Studio

Pharmacists can check patients' medications to ensure that there won't be any interactions between them.

By: Andres Rodriguez

Nurses provide care to patients in doctor's offices, emergency rooms and care facilities.