What Are the Different Types of Hair Extensions?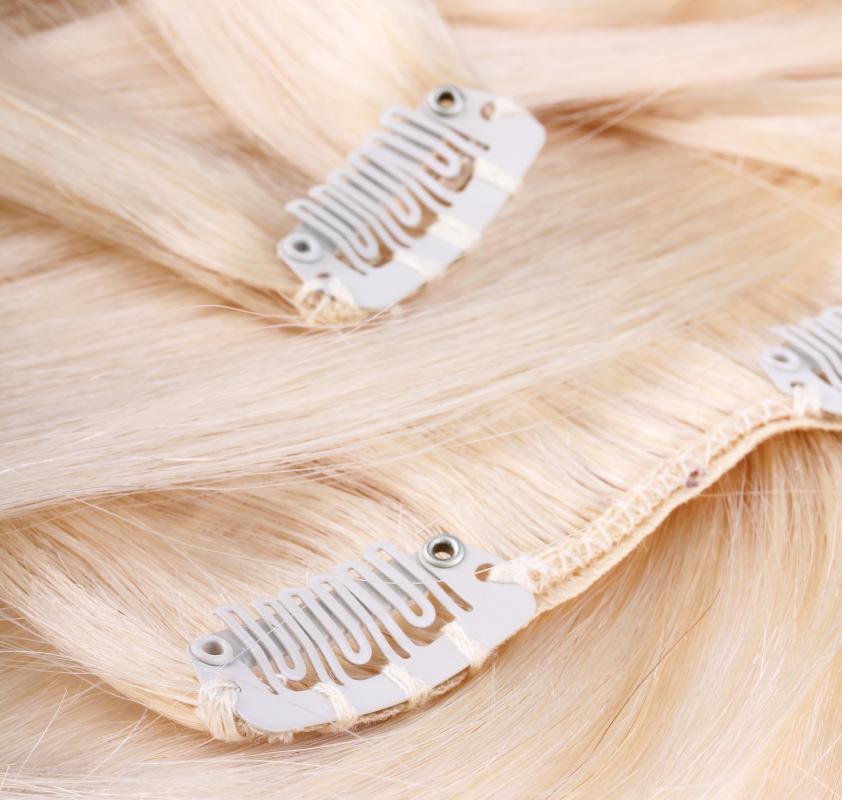 Hair extensions can be used in a variety of ways to add length, thickness or even color to hair. Some types of hair extensions are made from human hair, and others are synthetic. One of the most affordable options is extensions that attach to the existing hair using clips or combs, and another is done by braiding all the existing hair and adding extra hair to the braids. A weave is another way to add more hair and works well for creating longer styles. Finally, integrated extensions add a lot of hair similar to a full wig but still incorporate some of the existing hair for a more natural appearance.
Certain types of hair extensions are attached to the existing hair using clips or combs and are meant to be temporary. Some clip-on hair extensions come in bright colors, allowing experimentation with new hair colors without the long-term commitment. They can also be used to add vibrant color to darker hair without chemical bleaching. Clip-ons often are one of the most affordable types of hair extensions and can be done at home. They are designed to be clipped underneath the existing hair so that they are not fully visible.
Other extensions are braided into the existing hair. A more permanent type of extension than clip-ons, braided types usually are done in a salon. Unlike other types of hair extensions, braids usually work only when all of the hair is braided. Occasionally, just a few braids can be added to a loose hairstyle.
One of the most popular hair extensions is the weave. A weave is attached at the scalp and is often sewn into the existing hair. This can be a good way to add texture and depth to thinning, damaged or short hair without having to wear a full wig. A weave also can be used to create different types of hairstyles such as a long ponytail or curls for someone with straight hair.
When adding thickness is the primary concern, an integrated extension is one of the best types. Similar to a full wig, integrated extensions are attached to a mesh cap that is placed over the entire head. Then strands of the natural hair are pulled through the holes in the mesh. Not as popular as the other types, these extensions usually should be done in a salon.
By: pavel Chernobrivets

Blonde hair extensions.

By: RTDS

A stylist putting in hair extensions.