What are the Different Types of Cooking Courses?
Cooking courses are a wonderful way to indulge an interest in creating and preparing food and drink. There are many different types of cooking courses, geared toward all cuisines and skill-levels. Taking a class can be a great way to learn skills, make friends, and discover a new appreciation for food of all kinds.
Skill level and commitment are major questions in determining what type of cooking courses to take. Those looking to become professional chefs may want to enroll in a full-time course of study at a cooking school. These courses can take several years to complete, but can greatly aid a chef on the path to a rewarding career. Casual classes that last several weeks or months are often available through community colleges and outreach programs, and may provide detailed basic training in a more casual environment. Cooking supply stores, restaurants, and community programs may also offer one day or one weekend classes that teach a few dishes or specialize in mastering a single meal or food concept.
Some cooking courses are based on cuisine or even food choice. Those excited by making great desserts can check local patisseries or baking suppliers for available classes in cake decorating, candy-making, or pastry skills. People fascinated by the cuisine of a certain country or culture may be able to find classes that cover not only the dishes and recipes but also provide information about the history and function of food in that society.
Cooking courses can also focus on preparing food for a certain lifestyle. Some cooking schools offer classes in vegetarian and vegan cooking. Other courses may be beneficial for those with medical conditions that require special diets, such as low-fat, sugar-free, or gluten-free cooking classes. These lifestyle and diet classes can help participants create healthy and nutritious meals that may be tailored to suit individual needs.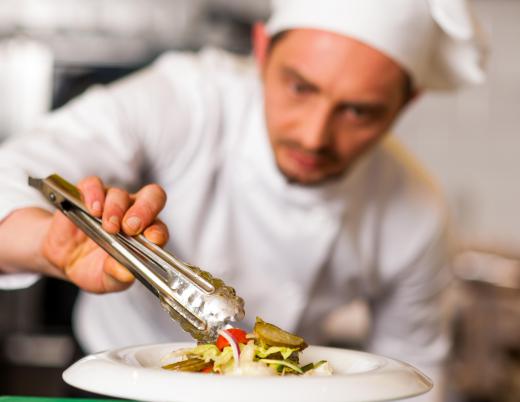 Holiday classes are another type of popular course that are frequently offered on a casual basis. In a weekend or a few sessions, participants may learn to master traditional or quirky holiday dishes. This can be a great opportunity for frequent entertainers to inject new dishes into a recipe file for holiday parties.
Some cooking courses can even be based around social events or occasions. Cooking for couples classes allow partners to learn to work as a team in the kitchen, providing new skills and a fun way to be together. Singles cooking classes often have a social air and a focus on making friends as well as food geared toward romantic dates and fun singles events.
AS FEATURED ON:
AS FEATURED ON:






A cupcake decorated in a cake decorating course.

By: Kurhan

A chef.

By: stockyimages

Some experienced cooks and chefs offer culinary classes for private clients.