What are the Different Types of Recreational Cooking Classes?
Cooking classes are not only for those who are training to be professional chefs. There are also a number of types of recreational cooking classes that can be enjoyed by people who simply want to learn how to be better cooks, or seasoned cooks who want to either learn new techniques or how to make food from cuisines with which they are unfamiliar. There are also cooking classes that are intended to teach people new ways to cook for healthier living and weight loss. In these cases, the cooking classes are sometimes part of a weight loss program or may be taught at a spa or health farm.
There are recreational cooking classes that cover all kinds of cuisines. From Japanese to Italian, from Spanish to Cantonese, it seems that there are cooking classes for almost every kind of cuisine enjoyed on the planet. There are also classes in fusion cooking, which is the practice of taking ingredients and techniques from multiple culinary traditions and blending them together. An example of fusion cooking would be the combination of French and Thai culinary techniques and ingredients.
Recreational cooking classes are sometimes organized for specific categories of people. For example, there are some classes that are geared toward couples. These sorts of classes help couples who want to learn how to do more cooking at home. The classes can also serve as recreational time during which the couples can have fun and enjoy each other's company.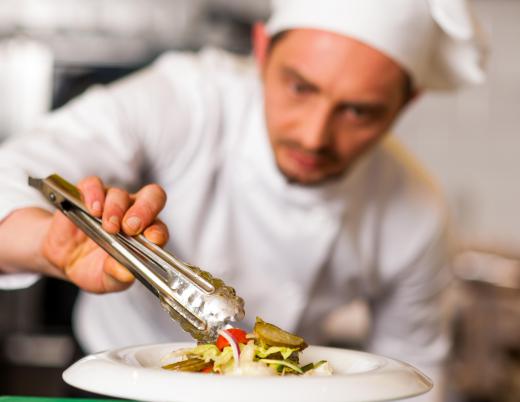 One very popular type of recreational cooking classes is the children's cooking class. These classes are sometimes offered as part of summer youth programs, camps, and after school programs. These classes usually combine cooking instruction with lessons on kitchen safety so that kids can learn how to prepare food without injuring themselves or others. Cooking classes are often a big hit with kids and can be a good way to encourage picky eaters to try new things and enjoy their food more.
Recreational cooking classes for adults are often held at a cooking academy or a kitchen supplies store. The classes may be intensive, meeting only once to focus on a certain kind of dish. They may also be scheduled for multiple meetings over the course of weeks or months. These longer classes usually teach students how to make a variety of dishes. The price of recreational cooking classes will depend on the quality of the facility where they are held, the number of times the class meets, and the experience level of the instructor.
AS FEATURED ON:
AS FEATURED ON:






By: goodluz

Anyone who wants to become a better cook can take a recreational cooking class.

By: stockyimages

Some experienced cooks and chefs offer culinary classes for private clients.