What are Private Cooking Lessons?
Private cooking lessons come in an array of forms. The purpose of such classes is, of course, to teach the art of cooking. Private cooking lessons are available for all age groups and skill levels, from novice to expert. Instructors may provide a pre-selected regimen of techniques, or may teach various meals or cuisines per customer request. Private cooking lessons may be held between one student and one chef, or a group of students with several chefs, or any number of combinations of students and chefs.
A private chef may teach individuals at home, or hold large educational cooking parties at a residence or the chef's own home or culinary institution. Establishments such as restaurants, universities, or local foodie organizations may arrange private cooking lessons for singles or groups. Special all-day or week-long courses may be taught, though private cooking classes typically last roughly 1.5 to 2.5 hours each. Students may sign up for a single course, weekly courses, or an entire program at home or at a cooking academy.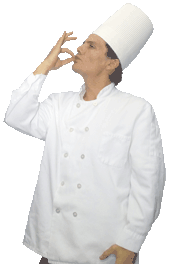 During private cooking lessons, students can learn beginning cooking techniques without feeling pressured by class pace or potentially more advanced students. If a beginning student wishes, he may first learn about proper kitchen cleanliness, tool organization, and knife skills. Students can then learn traditional practices and modern techniques used in everyday cooking.
Personalized lesson plans may be discussed prior to signing up for private cooking classes. Chef instructors may charge a varied amount for highly customized courses, though, due to the change in preparation, typical utensils, or recipe items. The costs of in-home or at-an-institution cooking classes also vary due to chef travel expenses and expenses for institution upkeep.
Depending on the time-intensiveness of each desired menu item, private cooking lessons typically revolve around the preparation and completion of one meal, which typically includes an entrée and a couple of side dishes. Dish options may include poultry, fish, beef, or pork generally accompanied by a grain and vegetable, and often dessert. Depending on the particular dish, students may learn to roast, grill, bake, sauté, broil, braise, or deep-fry the entrée. Baking courses, while often included with meal courses, are also available on their own.
Ethnic cuisine courses have become more popular since the late 20st century. Private cooking lessons that teach the intricacies of Italian, Mexican, Japanese, and Indian dishes — amongst others — have skyrocketed in popularity. Courses centered around appetizers or tapas have also become well-liked.
Other niche private cooking lessons also exist. Potential students may check online, in a phone book, or at local culinary institutes for information on them. Family-centric cooking classes are offered, as are cooking classes offered solely for kids. Cooking for couples is also a trendy 21st century activity. The ever-popular dietary restrictive or healthy cooking classes are also offered, as are vegetarian- and vegan-friendly courses.
AS FEATURED ON:
AS FEATURED ON:






Chef