What Are the Best Tips for Buying Hair Extensions?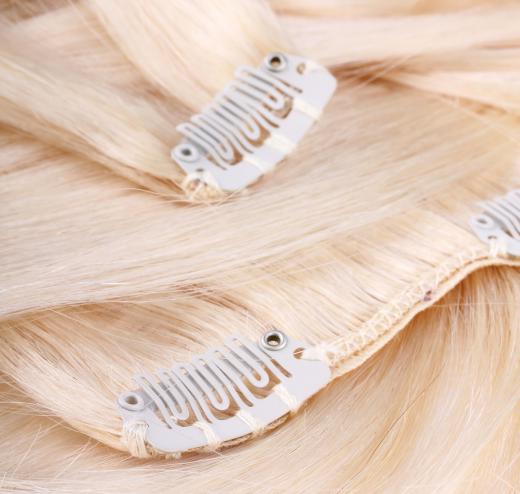 The ideal circumstances for buying hair extensions is with the assistance of a stylist. Advice is especially important for complex installation techniques. Before making a purchase, it is important to consider the color and texture of the fake hair compared to that of the natural hair. Since the quality of synthetic extensions have greatly improved, synthetic options should not be overlooked. It should be remembered, however, that cheap extensions are likely to portray their value.
It is best to buy hair extensions from a salon or with the assistance of a stylist. Beauty supply stores are often stocked with a wide variety of fake hair, but all options are generally not suitable for an individual. The staff in beauty supply stores, though they may have good intentions, usually have little or no expertise with regards to styling and hair care. This means that any advice that they offer is not of professional quality and may result in a regrettable purchase.
If buying hair extensions from a salon or in the company of a stylist is not an option, the next best option is to consult with a stylist in advance. This is especially true for individuals who already have an idea of the style that they want. Individuals who are having their extensions put in using some of the more complex methods should never consider making a purchase without a professional recommendation.
Color and texture are important considerations when buying hair extensions. If the color or texture of the desired extensions is drastically different from that of the natural hair, it is important to discuss how this situation will be handled with a stylist. To make it work, the stylist may suggest that a person process her hair. Since this is likely to be a permanent change, this decision should be made carefully.
The choice between synthetic or human hair is often a major one when buying hair extensions. In most instances human hair is more expensive. At one time, due to the large difference in quality, the extra price was justified. Synthetic extensions are constantly improving, however, and many are comparable to their higher priced human look alikes. There are even some benefits of synthetic extensions, such as easier maintenance and more pre-styled varieties.
Buying hair extensions is subject to the general price-value rule. Although it may not be necessary to purchase the most expensive option, it is generally best to avoid the cheapest option, which is likely to be of low quality. Individuals who purchase low-quality extensions commonly experience a wide range of problems, including an unnatural look, shedding, and matting of the strands. Before buying higher priced extensions, individuals who plan to re-use them should make sure that it is possible to do so.


By: pavel Chernobrivets

Blonde hair extensions.

By: RTDS

A stylist putting in hair extensions.

By: soup studio

Hair extensions should match a person's natural hair color as closely as possible.