How Do I Judge the Quality of Hair Extensions?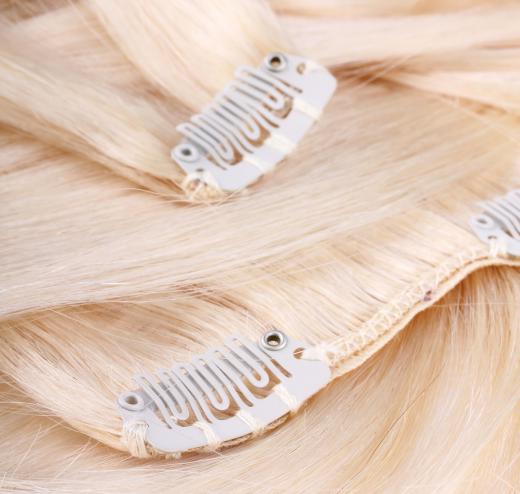 Whether you're growing out an unfortunate haircut or have naturally thin locks, hair extensions provide a temporary solution to limp or sparse tresses. The material and quality of the hair extensions themselves determine the overall style and quality of the finished look. The quality varies based upon the material the extensions are made from. Natural hair extensions are judged by different quality standards than synthetic hair extensions.
Natural hair extensions are made of real human hair. The quality of hair extensions from a natural source is dependent upon how the hair was harvested and the condition of the hair prior to being made into hair extensions. Heavily damaged hair or hair extensions made from cuttings are of a lesser quality than healthy hair or hair harvested specifically for the purpose of making extensions. Remy hair is considered a high quality option for those interested in getting hair extensions made of natural materials. The term "remy," or "remi," indicates that all the hairs are running in the same direction, making for a neater, more realistic addition to your natural locks.
Synthetic hair extensions are typically made of plastic or acrylic. The quality of hair extensions from a synthetic source can be determined by examining the synthetic material the extensions are made from. Kanekalon is a type of plastic that can be manipulated much like real hair and set into place using heat. Toyokalon and PPE are lesser-quality materials used to construct cheap costume wigs and cheap hair extensions and should be avoided if you're seeking a natural look.
Judging the quality of hair extensions isn't always easy. There are no international standards to ensure you are getting a quality enhancement. The cost of hair extensions is sometimes a factor, with more expensive extensions being of a higher quality than those of a lesser cost, though this is not always the case. Professional hair extensions and those marketed toward cosmetologists and beauty professionals are also likely to be of a higher quality than those sold to the general public, but this is not a hard and fast rule either.
The most effective way to determine the quality of hair extensions is to do some research. Comparing different hair extensions of the same type can give you some idea of what you should be looking for in terms of the quality of hair extensions. High-quality human hair extensions should be soft and manageable without obvious signs of damage or tangling. High-quality synthetics are generally textured and not silky straight or smooth and are packaged using the term "kanekalon." When in doubt, speak to a hair care professional, cosmetologist or beauty supply store employee regarding the concerns you have about the quality of hair extensions.


By: pavel Chernobrivets

Blonde hair extensions.

By: RTDS

A stylist putting in hair extensions.

By: soup studio

Hair extensions can be either natural or synthetic.