How Do I Choose the Best Women's Hair Extensions?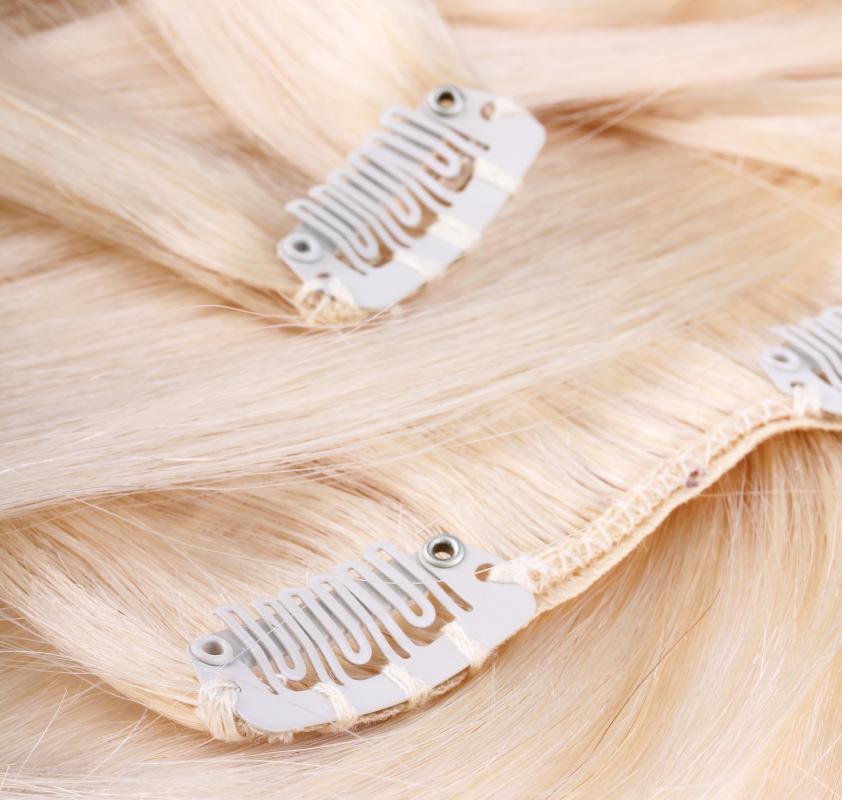 To choose the best women's hair extensions, decide on the extension color and application method. Extension color is particularly important, especially for women looking for a realistic and natural look. Generally, matching a color or just choosing an unnatural color should be done in person rather than on a computer, because monitors display colors differently. The application method determines both the total cost of the extensions and how much your natural hair is damaged in the removal process. In addition, some women cannot undergo a glue-in application because of negative reactions to hair glue.
Decide on a hairstyle and the colors needed to achieve it. Some women's hair extensions are designed to perfectly match a natural hair color, while others are unnatural colors that can compliment the existing hair. An unnatural color will not look realistic to others, but if the extensions are placed well, most people will likely think it is natural but dyed hair. In some cases, you can also dye hair extensions, but hair dye chemicals are harsh and can significantly decrease the life of hair extensions. To at least closely match your own hair, get an experienced beauty supply salesperson to help out.
Women's hair extensions come in several different styles: clip in, sew in, and glue in. Clip in hair extensions are meant to be clipped in and do not require a professional hairstylist beyond cutting it to match a hairstyle. On the contrary, both sew in and glue in hair extensions generally require someone skilled in applying them, or else the extensions may look obviously unnatural. After a small portion of the hair is braided, sew ins are applied in batches with a blunt needle and colored thread. Glue in women's hair extensions sometimes come with glue on the tips, but many women are allergic to it.
If you are worried about the health of your natural hair or allergic reactions, the best women's hair extensions are either clip in or sew in. In addition to potentially irritating your skin or causing thrush on the head, glue in hair extensions pulls out some of your natural hair when they are removed. Clip ins and sew ins can be removed with minimal to no hair damage. Whatever method you choose, remember that all women's hair extensions have the potential to damage or pull out hair if your natural hair becomes too tangled and matted in with the synthetic hair.
Blonde hair extensions.

A stylist putting in hair extensions.