What are Clip Hair Extensions?
Anyone who wants to instantly change her hairstyle in a temporary fashion can easily add clip hair extensions for a new look. Unlike extensions which are braided into or glued onto one's hair, clip extensions are pieces of hair that are affixed with a simple clip, making them quick and easy to put on and take off. Clip hair extensions can be found in local beauty supply stores or ordered over the Internet. They are usually less expensive than full weaves.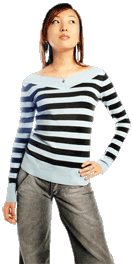 Hair extensions are widely available in human hair and synthetic hair varieties. Synthetic clip hair extensions cannot be heat styled or chemically processed like human hair. Human hair extensions offer more versatility in styling, as they can be curled, flat ironed, or dyed. Clip extensions are ideal for one-time use, or for those occasions when a woman wants a quick style change.
While sewn-in weaves or extensions are designed to be worn for several weeks, and are usually applied over the entire head, clip hair extensions may be added as bangs or as a different color fringe. They also work well for quick ponytails; all someone has to do is pull her hair back, secure it, and apply the clip on extensions.
Clips are a good solution for women who want to experiment with a different hair color, but don't know if they'll like it. With clip hair extensions, they can simply wear them for a day or two to see how the color looks on them. It's also a good way to experiment with texture, as clip extensions range from straight to curly.
Anyone who wants to add volume to her style can use clip hair extensions to add fullness. To make sure the extensions are not obvious, extensions should closely match the color and texture of the wearer's hair. Women who want long hair, but who don't want to wait for it to grow or can't seem to grow their hair long enough on its own, can use clip hair extensions for instant length. They can also take the extensions to their stylist to have them cut to specific lengths. Extensions typically can range in length from 8 to 22 inches (20.3 to 55.9 cm).
Celebrities are just as likely to wear clip hair extensions as anyone else. They often sport these extra lengths for awards events and other special occasions. They may also wear them for various acting roles that call for a certain hairstyle. If a celebrity's hair isn't long enough, stylists can simply add clip on extensions that can be easily removed after filming.