How do I Choose the Best Plumber?
Hiring the best plumber out of many can be a daunting task. For someone who is under pressure due to a pressing plumbing emergency, the job can be even harder. Use the following tips to hire a plumber who will get the job done fast and right.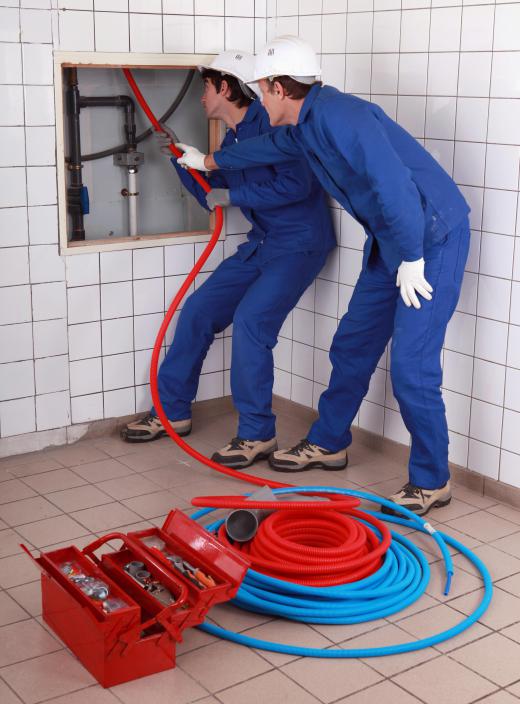 One way to choose the best plumber at your disposal is to simply ask around. Friends, family and neighbors can give you indispensable advice when you need to a hire a plumber. They may have objective assessments of a plumber's abilities and can relay their personal experiences to you. For those who want to do research before a plumbing problem arises, real estate agents may also be able to point you in the right direction and certain plumbers may even provide you with references.
Unlike other repair professionals like mechanics, good plumbers do not usually give estimates regarding parts and labor. Experienced plumbers will charge flat rates for specific services and repairs. The best plumber will allow you to pay upfront, while more unscrupulous plumbers will charge you as they go and will keep finding ways to add expenses onto your final bill.
Request that potential plumbers provide their license numbers. Professional plumbers will have license numbers ready and are willing to give them to prospects and clients. Using the license number, investigate the plumber's background to make sure that he is legitimate and licensed with the state. The best plumber will have knowledge of your city's building code requirements, be covered by at least $500,000 US Dollars (USD) in liability insurance and have an active workers' compensation policy.
Check into service agreements. These agreements will allow the plumber to return to your home and check up on your plumbing system's workings. If he finds that another repair is required, a service agreement may cover it. A good plumber makes himself available all day and every day because he knows that plumbing problems can arise at any time.
When choosing the best plumber out of numerous contenders, it's best to avoid certain situations. Move on to the next plumber if one simply gives you a day in which they will perform the job; professional and in-demand plumbers offer hourly appointments. Do not make a decision based on low fees, as quality of work often matches prices. Finally, hiring a handyman or someone who does small plumbing jobs is not necessarily the best choice because mistakes made by novice plumbers can result in extensive and costly plumbing damage.


By: auremar

Plumbers should be licensed.

By: sima

A plumber may install water fixtures.

By: auremar

Some plumbers focus on new construction while others do mostly repair work.