How do I Choose the Best Local Plumbers?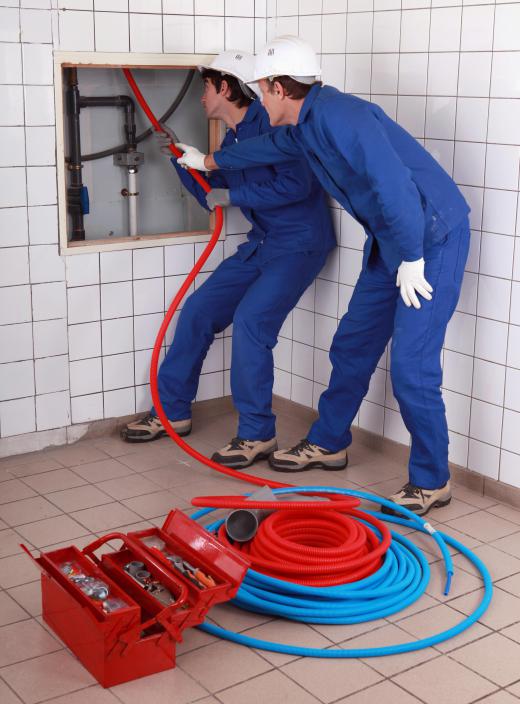 Choosing a good local plumber is not an easy task. While all plumbers may be able to handle simple jobs, some local plumbers may not be able to handle all types of jobs. Further, the customer service and work ethic of some plumbers may not be top notch. There are steps a homeowner can take to ensure the person they have working on their plumbing system is competent and responsive to the customer's need.
One of the most common methods when choosing among local plumbers is simply to depend on referrals. In most cases, homeowners will know other homeowners or real estate agents in the area. Checking with them to see who they use, or can recommend, may be save a lot of time and trouble. The best local plumbers often quickly gain a reputation for their work, and therefore are known to many people.
In some cases, if there is an emergency, the need to hire a plumber may be immediate. In such situations, it may be hard to know which local plumbers to trust and which ones to avoid. If the emergency takes place during normal business hours, checking with the Better Business Bureau is a good way to see what complaints may have been filed. While this is not a comprehensive check, it will often uncover any serious problems.
Choosing longevity is another method that can be chosen if there is an emergency situation. Often, in such cases, a homeowner's regular plumber may not be available, or the homeowner may not have a regular plumber. The homeowner is then forced to look at other local plumbers. Choosing ones that advertise how long they have been in business may be one method. While this does not guarantee great service, longevity is indicative that the company has been doing something right for a number of years.
Another good practice when choosing among local plumbers is to check and see if he or she is licensed. In most cases, plumbers will print their license numbers right on the side of their vehicles. If this is not readily visible, ask for the number. This will at least ensure that minimum state-required qualifications have been met, and also ensures the plumber has run into no significant ethical or criminal issues.
One other thing many do when they find a plumber that adequately meets their needs is to develop an ongoing business relationship with that person. In such cases where a pre-existing relationship is established, the plumber may be more inclined to handle urgent situations quicker. This also gives both parties a chance to get to know each other, and build an expectation of trust.


By: auremar

Plumbing businesses may list their services on the internet.

By: sima

A plumber may be responsible for installing water fixtures.

By: auremar

Friends and family members may be willing to offer recommendations for a plumber.