How do I Become a Registered Plumber?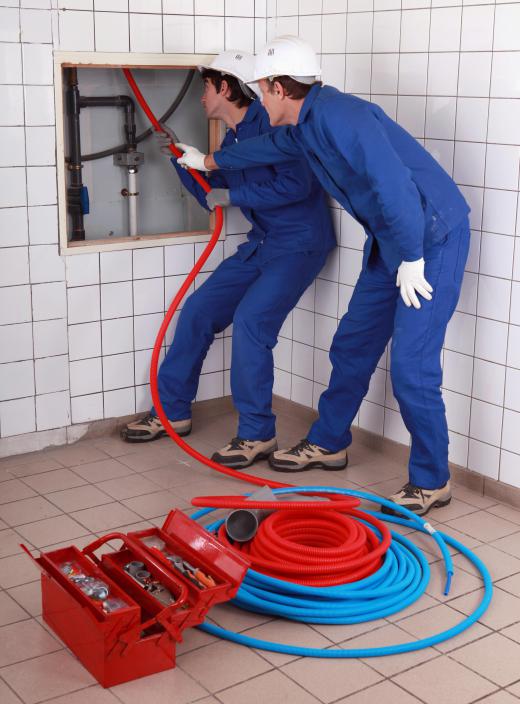 For a career in plumbing, an interested individual must pursue the necessary education and training. Plumbing is a highly specialized field and therefore requires strict adherence to guidelines. Both theoretical and hands-on learning are part of the education necessary to become a registered plumber. Plumbers are always in demand, however, so once the training is completed, professionals in this industry can feel certain that they have a solid career ahead.
As laws about plumber licenses and registration differ depending on location, an interested plumber should contact a local plumber service to find out the guidelines. Extra information, guidance and counseling are also available for plumbers at career centers, universities and on the Internet. To become a registered plumber, the first step is to get certified. This can only take place after the necessary education s completed.
A minimum of three years of secondary education is required to become a registered plumber, although many certification laws now require four, which is recommended in any case. It is a good idea to take general knowledge subjects, such as English, math, science and hands-on workshops such as technical drawing. After general courses are completed, an apprenticeship is required to become a registered plumber. Most apprenticeships last four years and provide valuable experience under the direction of master plumbers. A plumber job is best prepared for by seeing it done and then imitating the procedure, and a good apprenticeship will give the plumber experience in plumbing, gas fitting, drain laying and roofing.
After the education and apprenticeship are complete, a person can apply to become a registered plumber. This involves obtaining a certification from a labor and industries department. The certification can be downloaded online and mailed to the department with the appropriate fee, which varies based on location. The registration must be renewed every year because when homeowners hire a plumber, they want to ensure that the professional has the most current skills and tools to perform the job. Additionally, plumber laws and license regulations are changed and updated from time to time, so plumbers must keep abreast of developments in the field.
To become a registered plumber, an individual must be good with hands-on work and enjoy using tools and performing physical labor. Clients call for emergency plumbers any time of day, so a plumber should be flexible and get along easily with other people. Plumbers should also enjoy identifying problems and resolving to test different methods to come to the appropriate solution.


By: auremar

An apprenticeship period is one step in becoming a registered plumber.

By: sima

A plumber may be responsible for installing water fixtures.

By: auremar

Plumbing is a specialized field, and requires extensive training.