How do I Become a Commercial Plumber? (with pictures)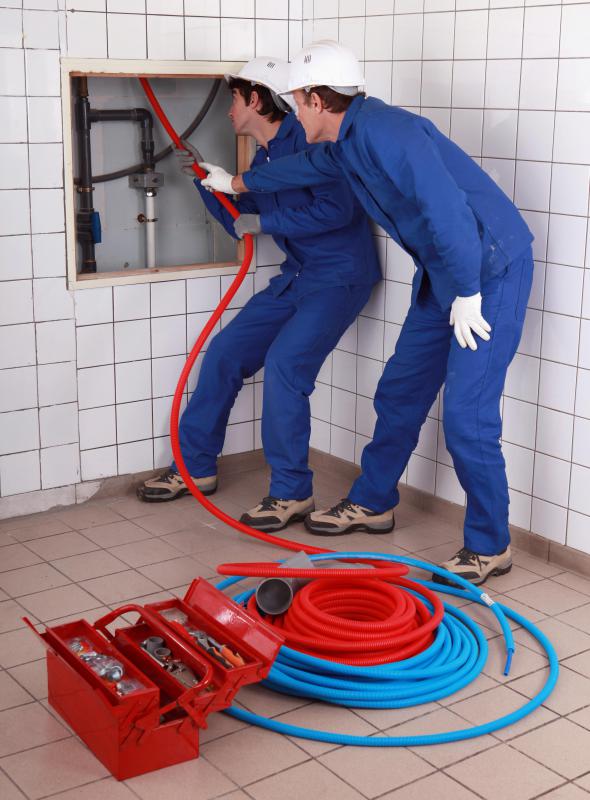 There are four steps required to become a commercial plumber: post-secondary training, related work experience, certification, and completing the job interview process. A commercial plumber is responsible for installing, repairing, replacing and managing plumbing fixtures. These plumbers specialize in the needs of commercial properties. This can include meeting specific safety regulations, such as installing fire suppression systems in a manufacturing plant, or dedicating plumbing systems for water intensive production equipment.
People who are mechanically inclined, skilled at working with tools and enjoy working with their hands report the greatest satisfaction with this career. Many states have guidelines about who can be asked to perform plumbing work, specifically restricting certain tasks to licensed plumber. A licensed plumber can find employment opportunities working for a large commercial property management company, as part of a plumbing contractor firm, or can open his own plumbing business.
Post-secondary training programs are required to become a commercial plumber. Plumbing training programs are available from a wide range of community and career colleges. There are two options to become a plumber: three years of full-time college or seven years as a plumbing apprentice. Both options cover the same classroom material and prepare the candidate for the licensing examination.
Related work experience to become a commercial plumber includes working as a plumber's assistant. Additional experience includes working in property management, commercial property maintenance, or facilities management roles. All these positions provide opportunities to work with your hands, use tools, and deal with emergencies.
Plumbing is a skilled trade and is regulated by the government. All plumbers must complete a certification examination. In order to become a commercial plumber, some states have another examination, which is evaluated in combination with the work experience. A specific combination of academic credentials, experience and examination results are required to become a licensed commercial plumber.
During the job interview process, take the time to prepare for the interview. Think of a list of standard interview questions and prepare your answers in advance. Some employers will have a short test of your plumbing skills as part of the interview process.
Career advancement opportunities for a commercial plumber are rather limited. Most plumbers build on their knowledge and experience, and eventually open their own plumbing business. Others enjoy the freedom of working for someone else, and become specialists in specific aspects of commercial plumbing. This may include focusing on a specific section or industry.
An apprenticeship period is one step in becoming a commercial plumber.

Work experience is one step in becoming a commercial plumber.