What is the Best Way to Find a Plumber?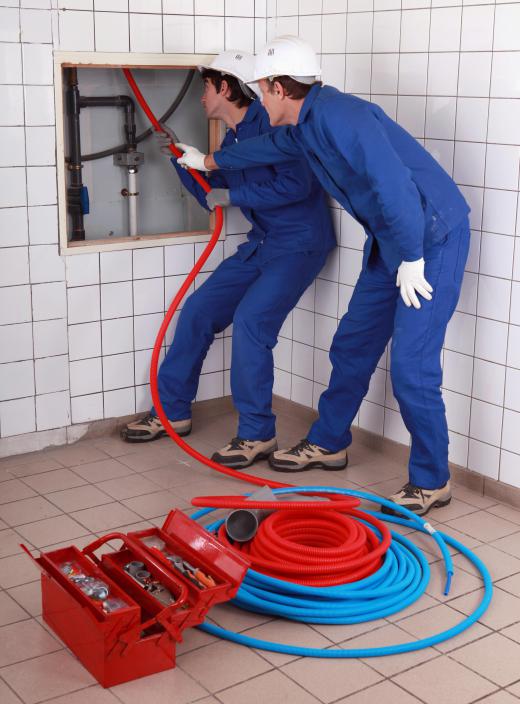 The best way to find a plumber is well in advance of the need for one, to ensure that a qualified, competent, trustworthy plumber will be readily available when a plumbing emergency occurs. There are a number of resources which can be used to identify local plumbers who provide a range of services and enjoy a reputation for doing good business. Getting recommendations is a good first step, but it's a good idea to follow up with potential plumbers to find out about their services, licensing, and prices.
Listings in the phone book can be a good place to start, but they can be overwhelming. It can be better to ask for a list of recommendations from local people who have frequent need for a plumber. Real estate agents are often a good source of recommendations, assuming that one has an established relationship with a trustworthy agent, and contractors and other building professionals may have recommendations as well. Likewise, people who have lived in an area for a long time may be able to help someone find a plumber.
Another source of information is reviews of local business people. Online review sites for trades such as plumbers are very common, and people can often find useful information on these sites which can help them find a plumber, or narrow down the choices of plumbers they would be interested in working with. Professional organizations such as unions are also a good resource; they can provide a list of local members to people who are looking for a plumber.
Ideally, seeking recommendations from several sources will generate a short list of plumbers who can be called for more information. When calling a plumber, people should ask about the type of plumbing services they provide, whether or not they respond to emergencies, and what their billing policies are. Some plumbers, for example, demand payment in full at the time of service, while others will send a bill. It is also important to get the plumber's license number and check it with the government agency which handles plumber licensing to confirm that the plumber is in good standing.
Once someone has taken the time to find a plumber, he or she should keep the plumber's information handy. It is a good idea to call periodically to confirm that the plumber is still in business and that the services offered are still the same.
For those who would prefer to wait until they need a plumber to find one, there are a few tips to keep in mind. People should call at least three plumbers to get a rough idea of how much the work should cost, how quickly the plumber can respond, and how long the work will take. They should also ask for license numbers, and check them if possible before hiring the plumber. If it's an emergency, people may want to consider talking to a building professional they already have a relationship with to see if he or she has a plumber recommendation or suggestion, rather than taking the time to go through the phone book to find a plumber.


By: auremar

Plumbers may work for a plumbing service or company that advertises on radio or television.

By: sima

A plumber may be responsible for installing water fixtures.

By: auremar

Plumbers who are trustworthy often receive rave reviews online.