How Do I Choose the Best Online Diet Plans?
The best online diet plans will guide you to eat healthy foods, give exercise ideas, and allow you to chat with other members of the program to get personal tips and stories. Online diet plans should also consider people that have special food allergies or other health concerns. When you're looking for the best plan, you may want to consider cost as well.
Any diet should offer information on how to eat healthy and how many calories you should be taking in based on your own height and weight. Online diet plans often have recipes and food portion guides to help you determine the right foods. The best plans should also let people know when they should be eating more or less carbohydrates, fats, or proteins.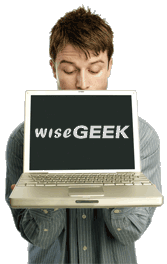 Many people who want to diet have food allergies, and the best online diet plans should be aware and give information about allergies such as wheat, gluten, or dairy. Some people have certain health issues such as heart disease or diabetes, and these concerns should be taken into account as well. A diet plan should also offer vegan or vegetarian meal ideas for those who do not eat meat or animal products.
Online diet plans should also offer specific exercise routines that include aerobic and anaerobic workouts. The plan should have multiple exercise choices and the recommended frequency of those exercises. A good diet plan can include tips on how to be safe while exercising and how to stay motivated.
Most people looking at online diet plans have specific goals in mind. These goals need to be written down, and progress needs to be tracked once they're in the program. A good plan should have some way of tracking weight, health, and fitness goals so the user can see the accomplishments being made.
Using a diet app may be helpful if you want a convenient way to track your progress. You can even get apps for a specific diet, such as keto diet apps. A quality diet app will focus on long-term health goals and a positive lifestyle. Look for apps that have been endorsed by medical professionals and use evidence-based approaches to diets. Avoid any apps that encourage restriction and unsafe calorie reduction.
An online community is typically important for the people that use online diet plans. It can be helpful to talk with other members that use the same diet plan to get additional ideas or discuss the diet's hardships. Any online plan should have chat rooms or forums where members can talk to each other.
Many online diet plans have either a monthly or yearly cost to become a member. Cost can be a huge factor when choosing the best online plan. It is helpful to compare costs of different ones before signing up.
AS FEATURED ON:
AS FEATURED ON:






Man holding computer