How do I Become an Online Administrative Assistant?
As telecommuting becomes more popular, many companies have chosen to hire virtual or online administrative assistants. This is an arrangement that works well for both the employee and the employer, since the business can keep expenses lower and the employee has the benefit of working from home. Securing one of these virtual administrative assistant jobs is a lot like finding work as an traditional administrative assistant, but with a couple of twists.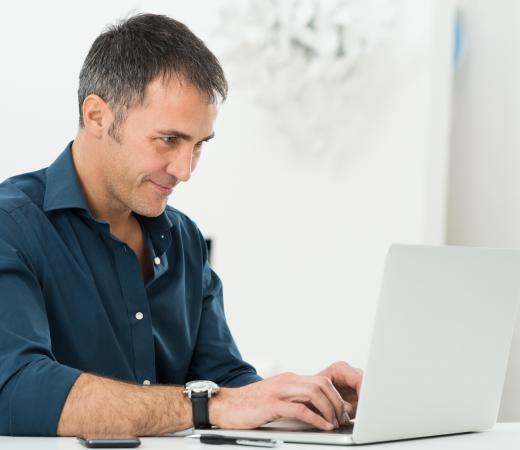 The first step necessary to become an online administrative assistant is to make sure you are up on current technology. This means being familiar with the more popular word processing programs on the market today. You also will need to know how to manage spreadsheet software and possibly how to work with presentation software. Having a solid working knowledge of sales database programs is often very helpful. If necessary, take administrative assistant classes at a local vocational or trade school in order to secure the basic computer skills you need to successfully become an online administrative assistant.
Next, take a good look at your resume. Since you are pursuing work in a virtual environment, you want to highlight the experience and the abilities that will help you become an online administrative assistant. Call attention to your abilities to conduct yourself professionally when speaking with callers, as well as your organizational skills. Be specific in what database and word processing software you know well, and don't forget to mention the number of words you type per minute. With some jobs, you may want to present your typing speed as the number of keystrokes you manage per minute.
If you plan on working on a contract basis rather than as a full-time employee, you will have to supply your own equipment and Internet connection. Make sure you have a desktop computer that has enough memory to handle large downloads as well as a high speed Internet connection. At the very least, you will need a DSL connection in order to become an online administrative assistant for most of your clients. Also have a separate business line that terminates at your home office; this will make it easy for your employer to point a toll-free number to your line, so you can answer with the company name.
Ancillary equipment in your home office will also make it easier to become an online administrative assistant. A good quality printer and scanner will be invaluable. Having fax capability will also come in handy with some assignments. Data storage is another important aspect to consider; make sure you have CDRs to copy files off your hard drive, or back them up to a secure data storage web site.
Once you are ready, market your services on various social and business networking sites. Remember to contact local employment agencies, since many of these are now looking for people who can work in a virtual environment. With a little luck, your goal to become an online administrative assistant will become reality in a very short period of time.


By: Scanrail

Online administrative assistants should have a desktop computer with enough memory to handle large downloads.

By: Rido

There are a growing number of telecommuting firms that provide virtual administrative assistant services.