How do I Become a Virtual Administrative Assistant?
If you want to become a virtual administrative assistant, that is, do secretarial work for clients from your home computer, there are two main paths to take to reach this goal. For those who already have on site virtual administrative office experience, it's possible to promote that achievement to clients to get regular telecommuting administration work. If a person wanting to become a virtual administrative assistant has no previous experience in the career, he or she can then take the path of learning skills that are in demand by clients. Constantly marketing specific skills that customers are looking for is necessary by both experienced and non-experienced administrative assistants to ensure enough ongoing work in the field.
An individual with only vague typing or clerical skills who wants to become a virtual administrative assistant may find some work, but most likely not enough to warrant regular assignments. Skills in demand can and should be learned first by those aspiring to be administrative assistants. Specific skills such as bookkeeping, editing, customer service or translation should then be marketed to the target audience needing those services. Aspiring virtual assistants can place as well as answer ads. In some cases, it may be a good idea to become a virtual assistant after handling some small local in-person assignments on an independent contractor basis.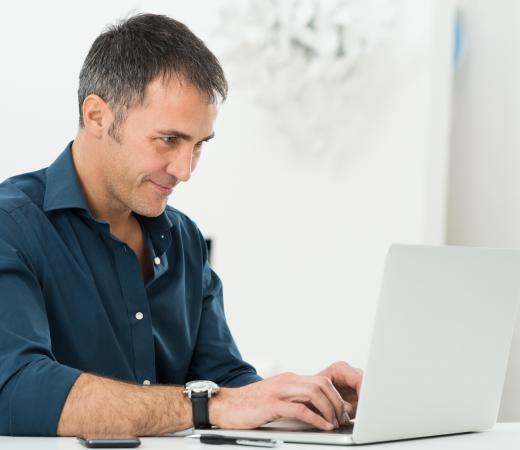 Virtual administrative assistants usually work as independent contractors. Independent contractors aren't hired as employees, but rather pay their own taxes and use their own office equipment. Businesses benefit from working with an independent contractor as they save on the overhead costs of providing office space and medical insurance.
If you already have a few years of experience working in the administration field in an office environment and are able to easily find client leads, it may be quite easy to become a virtual administrative assistant. Still, all freelance at-home careers require booking jobs ahead to stay busy with work. If you're offering a local virtual administrative assistant service, you may want to provide extra in-person services such as running errands.
Individuals with administration experience in a niche area such as legal, financial or medical may do well to become a virtual administrative assistant who specializes in one industry. Compiling a list of potential clients in that industry and cold calling may result in enough clients to bring in a reasonable income. Cold calling involves speaking to the person in a company who is likely to need your service and who has the power to hire you. It's important to understand that to become a virtual administrative assistant with enough assignments, going after new business should be done regularly.


By: nyul

A virtual assistant must be able to access the Internet.

By: japolia

Some virtual assistants use a headset to communicate rather than traditional telephones.

By: Rido

There are a growing number of telecommuting firms that provide virtual administrative assistant services.