How Do I Become an Internet Application Developer?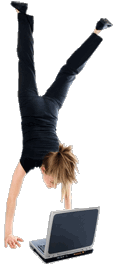 To become an Internet application developer, you will need education in a related field. You may wish to become certified in particular languages or technologies. A job as an Internet application developer will be easier to obtain if you already have some experience. Some job seekers may move to locations with better opportunities or telecommute, and others will work as independent contractors.
You usually need a four year computer science or equivalent degree to become an Internet application developer. For some positions though, a two year degree may be acceptable. If you are interested in a very challenging position, you may want to continue your education and obtain a masters degree in a computer science field.
Programming languages, especially object oriented languages, should be included in your course of study. Different employers may use different languages for application development, and having education in the language used will increase your chances of being hired. Web technology skills, such as the ability to write HTML, XML, and client-side scripting, are essential. Many employers expect Internet application developers to understand and troubleshoot browser incompatibility issues. If you'd like to become an Internet application developer, you will want to learn these skills.
You may also want to consider specializing. If you are interested in working on high-end financial, healthcare, or e-commerce websites, you will need a great deal of expertise in Internet security, and very strong application development skills. Those interested in mobile Internet application development will want to ensure their education or training covers that.
Along with college education, you may wish to pursue certification in particular languages or technologies. Studying for certification will help you increase your skills. Along with increasing your skills, you are demonstrating your commitment to your career.
Many organizations require experience as well. To gain experience, you can seek internships, write your own Internet applications, volunteer, or find freelance opportunities. Any type of work experience will help you become an Internet application developer.
Certain locations may offer more opportunities to be hired as an Internet applications developer than others. If you live in an area with few opportunities, you may want to consider moving. Some companies allow telecommuting, so you may be able to find this type of position.
Another way to become an Internet application developer is by working as an independent contractor. You can seek work though consulting firms or on your own. Before becoming an independent contractor, you may wish to write a business plan to ensure you consider aspects such your hardware and software needs, marketing strategies, and client management and accounting processes.
Woman doing a handstand with a computer