How are Virtual Offices Different Than Executive Offices?
Virtual offices differ from executive offices, or executive suites in one key way. Both are options for business professionals who do not want to tackle the expense and effort required to open an independent office space, but users of executive offices are generally on site at the executive office location, whereas virtual offices may be anywhere else in the world. Both offer similar services, however.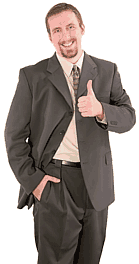 An executive office is ideal for the business professional who requires an office and conference space for meeting with clients, but who doesn't want to set up an office entirely on his own. In this type of arrangement, a business will lease a full service office space in a business center, where they will have an actual physical office to work in. Packages are offered with executive offices that include telephone answering services, administrative help, technical services such as teleconferencing, corporate meeting room rental, copy service, delivery service, and office catering. These offices usually come fully furnished and arrangements can be made for office equipment as well.
A virtual office is typically just an address used by a business to create a prestigious image or to show residency in a certain state or city. Businesses who use virtual offices are often businesses requiring extensive travel or services that do not require a location for client visits. Virtual offices often come with an answering service as well as a package delivery and mail service. Many of the same services are offered as the executive office packages, but communication is generally done via the telephone or email. Some professionals who utilize virtual office services may also use meeting facilities even though they don't actually have a permanent office space in the building.
Both executive offices and virtual offices are an economical alternative for businesses or professionals who don't care to undertake the overhead of furnishing an office and hiring full-time staff. Many times a business budget is depleted by paying for full-time services when only part-time or occasional service is needed. Hiring a receptionist to answer phones all day for a company that only receives a few phone calls is cost prohibitive, but the success of many businesses is determined by customer service, and several businesses sharing the expense of a receptionist or operator is of benefit to many.
Technology has afforded businesses the opportunity to more creatively manage budgets. It's no longer necessary for workers to communicate face to face, and electronic communication can allow a business to spend money in other areas, rather than using a chunk of it to pay for office space. This changes the way businesses function, but it can be a positive change for those with an innovative attitude.