What Should I Consider When Buying a Garden Hose Reel?
As a handy way of keeping the garden hose from getting tangled or damaged when not in use, the garden hose reel is a smart purchase. However, there is a certain amount of expertise that is involved in buying a garden hose reel. Here are some tips to help you find garden hose reels that will work well in your situation.
One of the first things to determine when buying a garden hose reel is whether you would be better served by a free standing model or a wall mounted model. Both types have their advantages. If you have a large yard, the freestanding model will probably be the most efficient. Mounted on wheels, it is possible to move the reel around the space, helping to keep the garden hose from developing tangles during use. Another perk of the freestanding garden hose reel is that it is possible to wide up the hose and store the entire unit in a utility shed.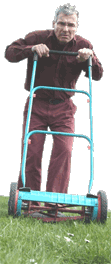 However, smaller spaces may benefit more from the installation of a wall-mounted reel. If storage space is limited and the area that will need to be covered is more or less within range of most standard length garden hoses, then buying a garden hose reel of this type is a great idea. Simply mount the reel near an outdoor faucet. This will provide an efficient means of getting the hose out of the way when it is not in use. Most of these types of reels are small enough that they do not stand out a great deal. In fact, a couple of tall potted plants would probably provide plenty of coverage if the homeowner wishes to hide the reel and hose altogether.
Another feature to consider when buying a garden hose reel is a spring load or piston driven mechanism that will help to retract the garden hose after use. This type of additional functionality will cost a little more, but for persons who get frustrated having to rewind garden hoses by hand, the feature is well worth the extra charge. Both wall mounted and freestanding reels can be purchased with the automatic retraction ability included.
One last thing to keep in mind when buying a garden hose reel is to make sure that the unit you purchase is large enough to accommodate your garden hose. Most reels will list the length of hose that the unit can accommodate listed along with other features. Don't try to skimp on cost by getting a smaller reel than you need. It simply will not work, and will leave you frustrated. Make sure you know what you need as well as what you want. This will make the task of buying a garden hose reel easy and quick.
AS FEATURED ON:
AS FEATURED ON:






Man mowing the grass