How Do I Choose the Best Coil Garden Hose?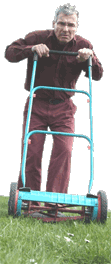 When shopping for a good quality coil garden hose, look for durability. In addition, choosing a lightweight coil garden hose will make your tasks easier. A coil garden hose also needs to be kink-resistant. If you want to coordinate your hose with other garden accessories, you can choose from various colors other than green by shopping at a specialty store. If you have a large yard and need extra length for watering the garden, make sure the coil garden hose will reach the entire distance of your yard.
Your coil garden hose must be able to withstand the outdoor elements, such as heat, humidity, and direct sunlight. Look for a garden hose that is resistant to the sun's ultraviolet rays. Don't compromise quality for cost, as your coiled garden hose should serve you well for several years.
Although using a coil garden hose will save you the hassle of having to roll it up after each use, you can do even better with a retractable hose. The retractable garden hose might cost more money, but your watering tasks will seem effortless. These models are generally sold with a reel cart.
Punctures can occur as you stretch your hose over thick bushes and thorned shrubs. A heavy-duty polyurethane garden hose will resist ruptures better than a poorly made vinyl model. For an environmentally safe alternative, choose a garden hose made from recycled materials. You can find many garden hoses in recycled polyurethane. Also look for quality brass hardware when choosing your coil garden hose.
You might require a coil garden hose that is made for watering the lawn and garden, as well as for drinking purposes. If your family or neighborhood kids occasionally take drinks from the garden hose, you'll need a model that meets safety drinking standards. Not all coiled garden hoses are safe for obtaining drinking water, and some contain lead. Read the packaging to be certain the garden hose is free of harmful elements if you plan on drinking water from it.
Although you might find a good deal on a coiled garden hose at a discount department store, shopping at a home improvement or garden center has advantages. These stores generally staff knowledgeable sales associates who can assist you with questions you may have regarding a coiled garden hose. You'll probably find a better selection of hoses at a specialty store as well.
Equally important is obtaining a good warranty. Choose a garden hose that offers a lifetime warranty for the best protection. Read the small print, however, as protections may be limited.
Man mowing the grass