What Should I Consider When Buying a Child's Car Seat?
Safety is first and foremost on any parent's mind when it comes to their child's car seat. What should you consider when choosing a car seat for you child? Of course, safety comes first, but you should also consider price, comfort, ease of use and installation. Most importantly, consider how much room you have in your car to accommodate the car seat.
All 50 U.S. states have some sort of law requiring car seats for child passengers. Most states require that children up to 18 months be restrained in a car seat, while some require the use of car seats until a child turns 3 years old. Other states legislate the use of booster seats until a child weighs at least 60 pounds (27 kilograms).
Most deaths of children in car accidents occur when a child is not properly restrained in a car seat. If you're expecting your first child, it's a good idea to purchase the car seat well before your due date so you're not unprepared if Junior arrives early. Most hospitals will not release your infant if you do not have a car seat to take him home in.
There are three basic types of child car seats on the market. The first is a baby or infant only car seat designed for newborns and babies up to 20 pounds (9 kilograms) and 12 months of age. This car seat faces the rear of the car, protecting the baby's vulnerable neck and spine in the event of an accident. Keep in mind that the weight and age limit are suggestions; doctors agree that it is preferable to keep a child rear-facing as long as the car seat's limitations will allow.
The second type of car seat is a convertible car seat. This type can convert from a rear-facing to a forward-facing seat. The maximum weight that this type of car seat usually allows is 30-35 pounds (13.6-15.9 kilograms).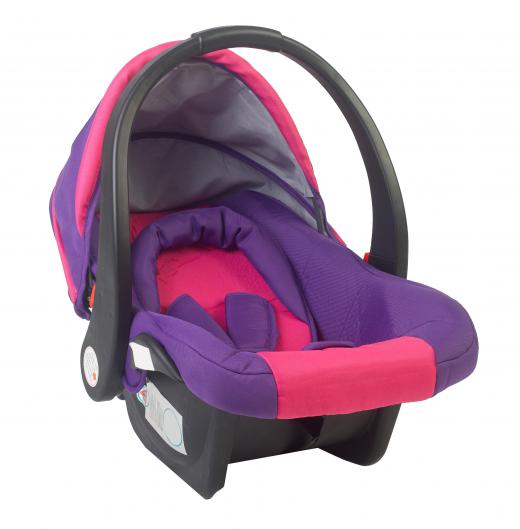 The last kind of car seat is the belt positioning booster seat, which uses the car's shoulder belt as the child's restraint. It makes the shoulder restraint more effective for a small child because it raises the child up to the level an adult would sit at. This type of car seat is appropriate for children at least three years of age and at least 40 pounds (18 kilograms). A backless booster seat is okay to use if the car's seat has head support.
Any new car seat that is sold in the U.S. must meet the U.S. government's strict crash and fire safety standards. It is not advisable to obtain a car seat second-hand because it may be damaged or not up to current safety standards. One advance in child car seat safety was the LATCH (Lower Anchors and Tethers for Children) system, which took effect in September of 2002.
The LATCH system is a standardized system that stabilizes the car seat and reduces the chance of head injury. All new cars manufactured after September 2002 are required to have two lower anchors in the back seat at the intersection of the back seat and cushion. In addition to this, all car seats manufactured after September 2002 are required to have tethers and hooks to connect to the anchors in the car. Front facing and toddler booster seats have top tethers to further secure the top of the seat.
Once you have decided which type of car seat is right for your child, there are many other extras to consider. Many car seats come as part of a "travel system," which is a matching set of a stroller and infant car seat/carrier. Child car seats come in a variety of prints and fabrics, and with extras such as cup holders, toy compartments and head pillows. Of course, there is a wide range of prices, determined by brand and extras. When it comes to choosing a car seat for your child, of course safety should come first — but having two cup holders and a spot for your pacifier is pretty nice too.


By: Matthew Benoit

It's a good idea to have a car seat ready well ahead of the due date.

By: Christian Müller

Safety should be the first consideration when purchasing a child's car seat.

By: Deyan Georgiev

Car seats must be able to withstand the force of a car crash.

By: ramzi hachicho

When a baby reaches 20 pounds in weight, a rear-facing car seat should no longer be used.