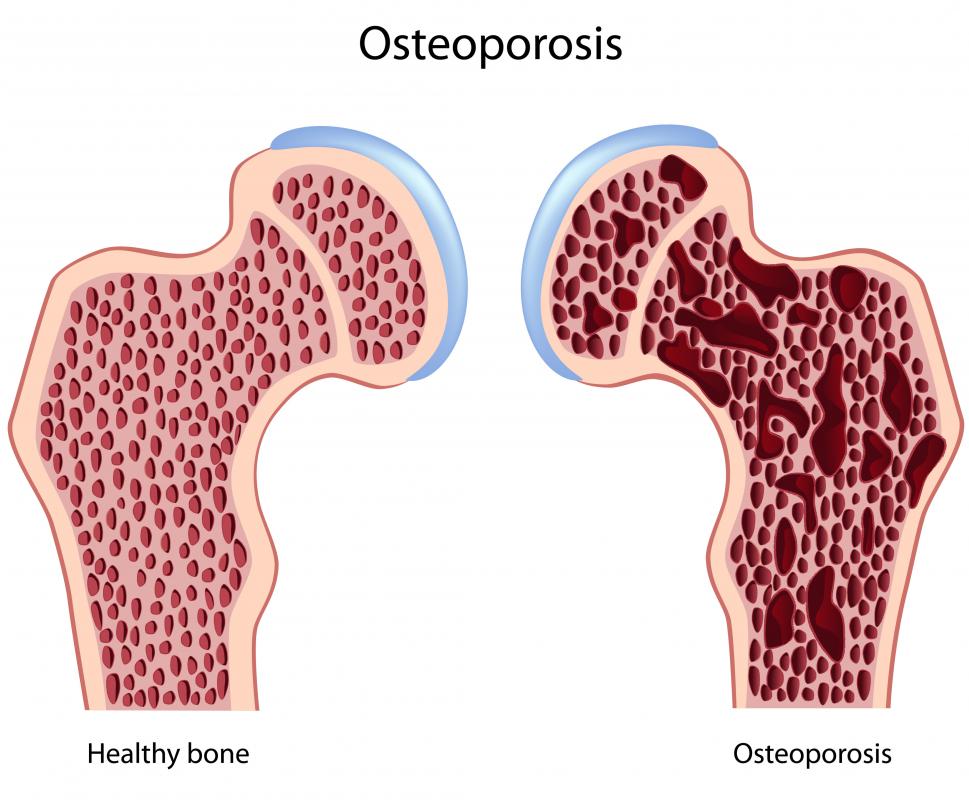 Zoledronate is known by a variety of brand names including Zometa® and Reclast®, and it treats or prevents bone loss associated with certain kinds of conditions like bone cancer or osteoporosis. The medicine belongs to a group of drugs called bisphosphonates, which increase cell turnover in bone cells so that bone loss occurs with less regularity. In particular, zoledronate has been useful in either preventing bone damage, or bone loss due to actual tumors in the bones or as a result of chemotherapy. It has also been shown effective in forestalling deterioration or stimulating new bone cells in people suffering from osteoporosis, and it may be used to treat Paget's disease of the bone.
Since there are different conditions for which zoledronate may be prescribed, dosage varies. All forms of the drug are delivered via intravenous infusion, and infusion time is short, usually taking about 15 minutes to complete. What varies most is how often infusion occurs. For osteoporosis, Reclast® is given once yearly. People with Paget's disease of the bone might only receive a single dose of zoledronate, but those with cancer may get this medicine every three to four weeks while cancer treatment or conditions remain active.
Like all medications, zoledronate has serious warnings and side effects. It should not be used during pregnancy, and it may be contraindicated if people have kidney disease because the drug clears through the kidneys. Those with aspirin sensitivity may develop wheezing or difficulty breathing if they take this medicine, and there is a possibility of dangerous allergic reaction occurring.
The biggest concern for most patients using any bisphosphonate is potential to develop a condition called osteonecrosis of the jaw (ONJ). Though rare, this can cause extensive deterioration of the jaw, which may be complicated if people have dental issues already or need any form of dental surgery while having bisphosphonate treatment. Getting a clean bill of health from a dentist is important before beginning treatments with zoledronate.
Common side effects that are less serious include tiredness, headache, dizziness, stomach and backache, and stomach complaints like nausea, vomiting and diarrhea. In some cases, when zoledronate is used in cancer patients, it worsens the cancer. Some patients also have trouble with a variety of eye conditions like swelling or increased pressure in the eyes. Many people do not experience serious side effects, and the medicine can rapidly clear from the body so that any side effects felt are of short duration. Still, most bisphosphonates have some real risks that are balanced by real benefits for the people who use them.
Zoledronate is used to prevent bone loss due to conditions such as osteoporosis.