What Is Therapeutic Cream?
Therapeutic cream is a topical ointment applied to the skin to treat a variety of conditions. There are several types of therapeutic creams, each designed to treat different conditions. Moisturizing lotions, anti-itch creams, and pain-reducing gels are three popular types. People also use therapeutic creams to reduce wrinkles, heal stretch marks, and control acne.
Some individuals might not consider moisturizing lotion a type of therapeutic cream, but it is. Dry skin can be caused by environmental factors such as sun exposure, chemical skin irritants, or extreme cold. It can also be caused by physical factors such hormonal imbalances or diabetes. Left untreated, it can lead to serious health issues. Moisturizing creams are often used to treat dry skin because the ingredients, such as lanolin, aloe vera, and petroleum jelly, help the skin heal from within while protecting it against outside irritants.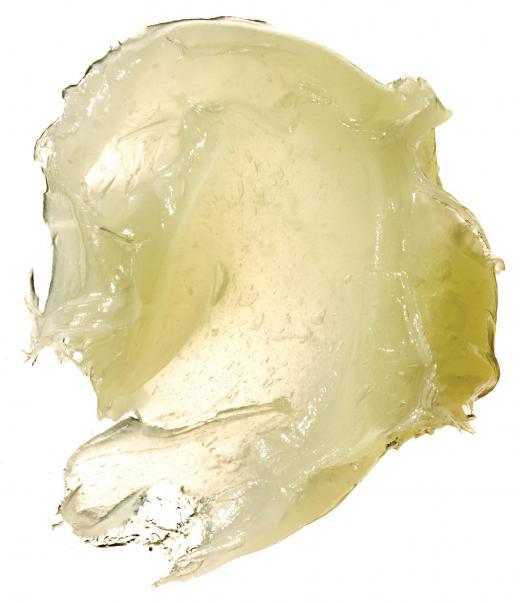 Anti-itch ointment is another popular type of therapeutic cream. People most often use these compounds to treat rashes, bug bites, and other skin irritations. Quite often, this type of cream contains antihistamines and steroids, such as hydrocortisone, which serves to reduce itchiness and inflammation. It might also contain a mild topical anesthetic to dull associated pain as well as antibiotics, such as bacitracin zinc and neomycin, to help prevent infection.
Pain-relieving gel is another recognized form of therapeutic cream. Individuals typically apply this type of ointment to relieve muscle or joint pain, such as might be caused by arthritis or muscle strain. The ingredients in pain-relieving therapeutic cream, which might include eucalyptus, menthol, and methyle salicylate, are sometimes called counterirritants. They are designed to distract the nerve endings with sensations of hot or cold and thus interfere with the transmission of pain signals.
Antiwrinkle cream, another type of therapeutic cream, uses ingredients such as retinol and coenzyme Q10 to heal and tone the skin, thus reducing the appearance of creases and wrinkles. Along the same lines, lotions designed to reduce the appearance of stretch marks use skin-healing additives such as vitamin B and palmitoyl oligopeptide. Both of these types of therapeutic creams are designed to give the skin a more youthful appearance by destroying free radicals, stimulating natural collagen production, and healing damage caused by age and environmental factors.
Some people use therapeutic cream to treat and control acne. This type of cream generally contains ingredients such as sulfur, resorcinol, or salicylic acid, designed to eliminate existing acne and prevent future outbreaks. Like most other therapeutic creams, acne lotion is sold over the counter at many pharmacies, but stronger versions could be available by prescription.
AS FEATURED ON:
AS FEATURED ON:






By: blueee

Petroleum jelly, a type of moisturizing therapeutic cream.

By: April Cat

A woman applying an anti-itch cream.

By: Mi.Ti.

A pot of therapeutic cream.

By: picsfive

A therapeutic cream.

By: jedi-master

Anti-itch ointment is a type of therapeutic cream used to treat bug bites, rashes and other skin irritations.